My Generation: The Roulettes: John 'Mod' Rogan Special [Roulettes, Beatles, Contours, Adam Faith, Marvin Gaye, unreleased Demo]; Spanish Pop*** Sunday 19 & Tuesday 21 November 2023 *** [Ed's Show, 2023-35]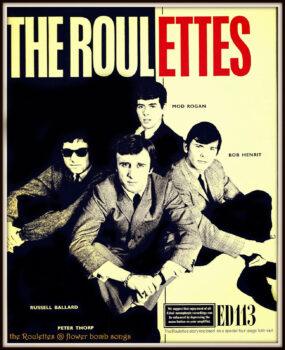 REPEATED *** The Searchers [new release]; Remo Four; Johnny Sandon; Shake That Thing – Blues In Britain [new release], Howlin' Wolf, Ten Years After   ***
Sunday 19 November 2023  12:00 > 04:00 hrs & Tuesday 19 November 2023  12:00 > 24:00 hrs CET *** RADIO 68: all the revolutionary sounds and voices that shaped the sixties **
LIKE our Facebook Page https://www.facebook.com/radio68Belgium
JOIN our Facebook Group 
Showtime CETime Brussels
12.00 The Roulettes: John Mod Rogan special; Spanish Pop

14.00

The Searchers; Blues in Britain 1963-1973; Ten Years After, Howlin' Wolf

16.00

The Roulettes: John Mod Rogan special; Spanish Pop

18.00

The Searchers; Blues in Britain 1963-1973; Ten Years After, Howlin' Wolf

20.00

The Roulettes: John Mod Rogan special; Spanish Pop

22.00

The Searchers; Blues in Britain 1963-1973; Ten Years After, Howlin' Wolf

24.00 The Roulettes: John Mod Rogan special; Spanish Pop

02.00

The Searchers; Blues in Britain 1963-1973; Ten Years After, Howlin' Wolf

04.00 [ENDS HERE ON MONDAY MORNING]
THE PLAYLISTS
NEW SHOWS 
01 MY GENERATION 12:00, 16:00, 20:00, 24:00 and 02:00 hrs CET: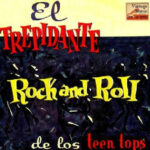 SPANISH POP
LOVE & PEACE
The Graham Walker Sound:  Hair (EP, France, 1969)
RARE & FORGOTTEN
HALL ROGINI J'entends siffler le train c/w Si un jour [Stella for Teenagers].
PAT FIELD et les Pumas de l'Oklahoma [FR] Ya Ya Twist c/w Cincinatti Twist/
SPECIAL:  SPAIN
HENRY STEPHEN Limon Limonero c/w Hang On Sloopy [1968].
LOS TEEN TOPS El Trepidante Rock and Roll de los Teen Tops, EP, 1960 [Jailhouse Rock; High-School Confidential; Good Golly; Good Rockin' Tonight  – in Spanish].
LOS ALBAS Quien sera c/w A Little Bit Hurt.
LOS CANARIOS Peppermint Frappé, Trying So Hard [1967].
AND ALSO
THE DOVELLS feat. LEN BARRY Bristol Stomp.
LONG JOHN BALDRY & The HOOCHIE COOCHIE MENGoin' Down Slow [1964 LP]
02 MY GENERATON: 1300, 1700, 2100, 23:00 and 01:00 hrs CET: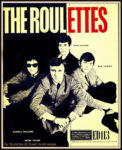 JOHN 'Mod' ROGAN Special
THE INTERVIEW
Based on Exclusive Radio 68 interviews conducted by Eddy Bonte.
THE MUSIC
! Unreleased Fontana Demo!
ADAM FAITH  Watch Your Step
THE ROULETTES Bad Time
ADAM FAITH Don't That Beat All
THE ROULETTES Soon You'll Be Leaving Me; Find Out the Truth [Rogan, Thorp]
THE CONTOURS Do you Love Me
MARVIN GAYE Stubborn Kind of Fellow
THE ROULETTES Shake
THE BEATLES Taste of Honey
THE ROULETTES Taste of Honey
THE ROULETTES Anonymous Mr Brown [unreleased one-sided Fontana demo]
THE BEATLES Twist and Shout
THE ROULETTES I Can't Think of Anyone Else [Rogan, Thorp]
DON GARDNER & DEE DEE HARRIS I Need Your Loving
ADAM FAITHit's Alright [live, US tv show]
THANKS to JOHN 'Mod' Rogan for stories, jokes, hospitality and generosity [and a free piano lesson!]
my ROULETTES pages https://www.eddybonte.be/just-good-music/pop/the-roulettes/
REPEATED SHOWS : 
03 MY GENERATION 14:00, 18:00, 22:00 & 02:00 hrs CET: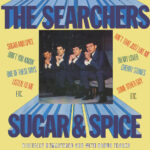 LOVE & PEACE
THE SEARCHERS Blowin' in the Wind [Live at the BBC].
FORGOTTEN & OVERLOOKED
JOHNNY SANDON & REMO FOUR
Magic Potion; Yes; On the Horizon; Lies.
TONY JACKSON
Walk Walk; Follow Me; You Beat Me to the Punch ; This Little Girl Of Mine.
SPECIAL
THE SEARCHERS Sugar and Spice (BGO 2023 Vinyl)
Sugar and Spice; Don'cha Know; All My Sorrows; Ain't That Just like Me; Someday We're Gonna Love Again (bonus track)/
LONG-PLAYTIME
MAN
Revelation [In the Beginning; Erotica].
AND ALSO VEE-JAY (Chicago Hit Factory)
Hoyt Axton Bring Your Lovin'.
The Standells Big Boss Man/
Mac Davis Hey Monkey
Johnny L. WATSON & The Hummelflugs Lookin' for Love.
04 MY GENERATION 15:00, 19:00, 23:00, 03:00 hrs CET: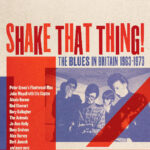 LOVE & PEACE
Long John Baldry with Rod Stewart: Up Above My Head [V.A. SHAKE THAT THING  THE BLUES IN BRITAIN 1963-1973]
INSPIRATORS & ORIGINATORS
Howlin' Wolf:    Hidden Charms c/w Tail Dragger, 1963; Going Down Slow 1964.
SPECIAL
V.A. SHAKE THAT THING  THE BLUES IN BRITAIN 1963-1973
Rod Stewart: Good Morning Little Schoolgirl.
Davy Graham:   Going Down Slow.
Alex Harvey: Honey Bee.
Beverly Martin  Me and My Gin.
IAN A. ANDERSON: Cottonfield Blues.
IAN A. ANDERSON & Elliott Jackson:  Shake "Em On Down.
IAN A. ANDERSON & & Mike Cooper:  The Inverted World.
KEEPERS OF THE BLUES FLAME
TEN YEARS AFTER
Ten Years After, LP, 1967 [I Want to Know; Can't Keep From Crying Sometimes; Spoonful]
FULL HOUSE: Do It Right.
my ROULETTES pages
https://www.eddybonte.be/just-good-music/pop/the-roulettes/
MIJN BESPREKING / MY REVIEW
BRUMROCK https://www.keysandchords.com/album-review-blog/various-artists-once-upon-a-time-in-the-west-midlands-the-bostin-sounds-of-brumrock-1966-1974
THANKS TO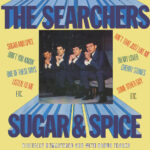 Cherry Red for  V.A. SHAKE THAT THING  THE BLUES IN BRITAIN 1963-1973 https://www.cherryred.co.uk/product/shake-that-thing-the-blues-in-britain/
BGO for THE SEARCHERS  https://www.bgo-records.com/product/sugar-spice-plus-bonus-tracks/
CHERRY RED cherryred.co.uk for  https://www.cherryred.co.uk/product/once-upon-a-time-in-the-west-midlands-the-bostin-sounds-of-brumrock-1966-1974-3cd-box-set/

SHOW ID
Ed's Show, My Generation, 2023-35, Sunday Nov. 19 &  Tuesday Nov. 21   *  2023-35 (new)
DISCLAIMER
https://www.radio68.be/disclaimer/