My Generation *** English Sunshine Pop, Bert Sommer, The Lovin' Spoonful, The Lemon Pipers; The Head Shop; Radio Sutch Presents: 'Savages' Jess & James + Bill Wyman, Ray Charles, Albert King *** Sunday 16 & Tuesday 18 April 2023 *** [Ed's Show, 2023-12]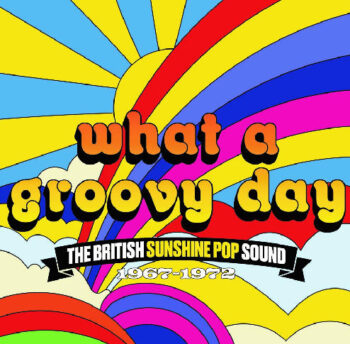 REPEATED *** Radio Sutch presents Savages Alan Clayson & Dave Wendells, plus Dave Berry, Mick Jagger, Howie Casey  + Arthur Brown, Atomic Rooster ***  Ed's Show, 2023-12 (incl. Sutch 28) *** Sunday 16 April 2023  12:00 > 04:00 hrs & Tuesday 18 April 2023  12:00 > 24:00 hrs CET ***  *** RADIO 68: all the revolutionary sounds and voices that shaped the sixties **
LIKE & JOIN RADIO 68  Like our Page https://www.facebook.com/radio68Belgium
Join our Group Radio 68 !
Showtime CETime Brussels
12.00 Sunshine Pop, Bill Wyman, Jess & James
14.00 Alan Clayson, Dave Berry, Arthur Brown
16.00 Sunshine Pop, Bill Wyman, Jess & James
18.00 Alan Clayson, Dave Berry, Arthur Brown
20.00 Sunshine Pop, Bill Wyman, Jess & James
22.00 Alan Clayson, Dave Berry, Arthur Brown
24.00 [ENDS HERE ON TUESDAY]
24.00 Sunshine Pop, Bill Wyman, Jess & James
02.00 Alan Clayson, Dave Berry, Arthur Brown
04.00 [ENDS HERE ON MONDAY MORNING]
THE PLAYLISTS
01 MY GENERATION : (new show: 12:00, 16:00, 20:00 and 02:00 hrs CET)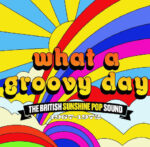 RARE & FORGOTTEN
GUY DERSÉ & THE KILI-JACKS (BE)
Madison Time / Cassons la baraque, single, 1962.
FRANKIE SANDS (DE)
Twistin' Sailor, single, 1962.
SPECIAL:  V.A. WHAT A GROOVY DAY (Cherry Red) (3CD box set, 2023)
Harmony Grass: What A Groovy Day.
Warm Sounds:  Birds and Bees.
Jason Cord: Why Shouldn't I?
Petula Clark: Colour My World.
Pinkerton's Colours: Mum and Dad.
West Coast Consortium: Some Other Sunday.
LONG-PLAYTIME
BERT SOMMER
And When It's Closer; The Night Together; Hold the Light  [The Road to Travel, LP, 1969].
THE LOVIN' SPOONFUL
4 Eyes; Darlin' Companion; Rain on the Roof, Bes' Friends [Hums Of, LP, mono, 1966].
THE LEMON PIPERS
Love Beads and Meditation [Jungle Marmalade, LP, 1968].
THE HEAD SHOP
Listen with a Third Ear [The Head Shop, LP, 1969].
AND ALSO
LOVE & PEACE:  ALEXANDER BELL: Alexander Bell Believes [V.A. What A Groovy Day].
FREE SPEECH: Ewan McColl: Ballad Of Ho Chi Minh + Bernadette Devlin + Ho Ho Chi Minh Street Slogan.
THANKS TO   Cherry Red for V.A. What A Groovy Day https://www.cherryred.co.uk/product/what-a-groovy-day-the-british-sunshine-pop-sound-1967-1972-3cd-clamshell-box/
 02  MY GENERATION BLUESIDE (new show: 1300, 1700, 2100 and 0100 hrs CET)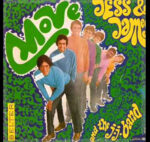 QUICKSTARTER
JERRY GARCIA: Let it Rock.
TREENITY:  THE SPENCER DAVIS GROUP
Watch Your Step; It Hurts Me So; Midnight Train.
R&B MIX 1
CHAMPION JACK DUPREE : Ba' La Fouche.
ALBERT KING: Born Under A Bad Sign (Alternate Take).
THE IMPRESSIONS: Talking About My Baby (50th Anniversary Salute to Curtis Mayfield).
SPECIAL: JESS & JAMES
JESS & JAMES & J.J. BAND: Move; Something for Nothing.
5 FROM DAVE: Happy People.
DAVY JR. & GUESS WHO?: Cream Cheese; Everything's Alright.
R&B MIX 1
WILLIE & POOR BOYS feat. Gary Brooker, Andy-Fairweather Low: What 'd I Say (live).
BILL WYMAN's RHYTHM KINGS feat. Georgie Fame: Where's the Money.
BILL WYMAN: White Lightnin'.
RAY CHARLES: In the Evening When the Sun Goes Down
03 MY GENERATION  (repeated show 14:00, 18:00, 22:00, 02:00 hrs CET)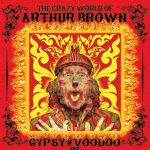 RARE & FORGOTTEN from France Jacqueline Taïeb  + Anna Karina + Ronnie Bird.
SPECIAL:  The Crazy World of Arthur Brown (feat. Vincent Crane) : choice tracks from albums  'Gypsy Voodoo' (2019) and 'Zim, Zam, Zim', 2014 + Atomic Rooster feat. Vincent Crane, LP, 1970.
LONG-PLAYTIME Jess & James and the J.J. Band: LP 'Move', 1968.
AND ALSO Love & Peace : George Harrison: Give Me Love (Give Me Peace On Earth) + Elliott Murphy: 'What The Fuck Is Going On'
04 MY GENERATION BLUESIDE (repeated show: 15:00, 17:00, 23:00 & 03:00 hrs CET)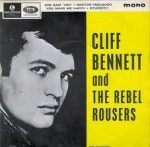 RADIO SUTCH The Savage Tree no. 27. Special: Alan Clayson, Dave Wendells
QUICKSTARTER
THE FLIES Reelin' And Rockin'.
TREENITY:   MICK JAGGER with
THE RED DEVILS Checkin' Up on My Baby ("Solo").
THE MIDNIGHT BLUES BAND Everybody Knows About My Good Thing (Live Hammersmith, 1992).
JERRY LEE LEWIS Evening Gown  (ibid., Last Man Standing).
R&B MIX 1
CHARLES MINGUS Don't Let Them Drop that Atomic Bomb On Me.
SAVAGE ALAN CLAYSON
ALAN CLAYSON Hound Dog.
DAVE BERRY Mercury Blues; Little Queenie (Live at the Cavern, 1964); DIddley Daddy (id.).
SAVAGE DAVE WENDELLS
CLIFF BENNETT & THE REBEL ROUSERS  It's Alright; You Really Got A Hold On Me.
R&B MIX 2
RAY YOUNG & HOWIE CASEY BAND: Hang Up My Rock 'n' Roll Shoes (Live 2011).
HOWIE CASEY Twist at the Top; Double Twist.
BACKGROUND + MEER INFORMATIE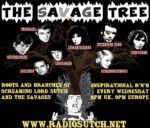 RADIO SUTCH The Savage Tree
My show 'The Savage Tree' was originally broadcast on the revived  Radio Sutch beteen 2014 and 2018.
'The Savage Tree' explores the rhythm and blues roots and branches of Screaming Lord Sutch and his backing-band The Savages.
With roughly fifty line-ups of The Savages to his name, Screaming Lord Sutch was backed by dozens and dozens of artists –  and that's not counting the many guests on his recordings.  Together, they make up the huge and unique Savage Tree. In each show, we take a closer look at the rhythm and blues output by individual Savages and bands counting Savages in their ranks.
Some 'Savages': Vince Taylor's Playboys, Alex Dmochovski, Carlo Little, Peter Parks, Matthew Fisher, Nicky Hopkins, Alan Clayson, Jim Leverton, Mick Abrahams, Cyril Davies, Geoff Everett, Richie Blackmore, Noel Redding, Neil Christian, Brian Parkinson, Brian Keith aka Brian O'Shea.
We also play  the originators and inspirators, and British, American and European artists who have kept the blues flame burning.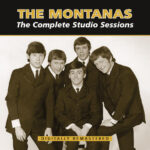 THANKS TO
Cherry Red for V.A. What A Groovy Day https://www.cherryred.co.uk/product/what-a-groovy-day-the-british-sunshine-pop-sound-1967-1972-3cd-clamshell-box/
BGO for The Montanas Complete Studio Recordings, 2CD, 2022  
https://www.bgo-records.com/product/the-complete-studio-sessions/

MY REVIEW / MIJN BESPREKING:
THE MONTANAS
https://www.keysandchords.com/album-review-blog/the-montanas-the-complete-studio-sessions?fbclid=IwAR0Q7HGAUPnKIaQQpkM-XksvtnqVce9XfWe9KdnGqc_oWdnZyzNbG40E-FM
DISCLAIMER
https://www.radio68.be/disclaimer/