My Generation *** Oak Records: From Morden to Wimbledon [new release], Johnny Thunder, The Spirit of John Morgan, A.B. Skhy, Roosevelt Sykes, Peacepipe *** Sundays 17 & 24, Tuesday 19 & 26 July 2022 *** [Ed's Show, 2022-24 & 25]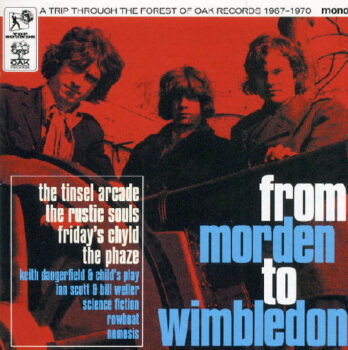 NEW SHOW: *** Oak Records: From Morden to Wimbledon [new release], Johnny Thunder, The Spirit of John Morgan, A.B. Skhy, Roosevelt Sykes, Peacepipe ***  REPEATED *** Arthur 'God Of Hellfire' Brown 80 Special 1965-2022: Arthur Brown, Arthur Brown Set, Arthur Brown & The Diamonds ; Screaming Lord Sutch's Savages: Neil Christian + Rhythm and Blues Mix  *** Sundays 17 & 24 July 2022 / Tuesdays 19 & 26 July 2022, 12:00 noon till 24:00 *** Time: CET Brussels ***  Ed's Show, 2022-24 and -25*** RADIO 68: all the revolutionary sounds and voices that shaped the sixties ***
LIKE & JOIN RADIO 68
Like our Page https://www.facebook.com/radio68Belgium
Join our Group https://www.facebook.com/groups/613281298696645
Showtime CETime Brussels
12.00 Oak Records, Spirit of John Morgan

14.00

Arthur Brown 80,

Savage Neil Christian

16.00 Oak Records,

 Spirit of John Morgan

18.00

Arthur Brown 80, Savage Neil Christian 

20.00 Oak Records,

Spirit of John Morgan

22.00 Arthur Brown 80,

Savage Neil Christian 

24.00

 

[ENDS HERE ON TUESDAY] 



24.00 Oak Records,

  Spirit of John Morgan

02.00 Arthur Brown 80,

Savage Neil Christian 

04.00 [ENDS HERE ON MONDAY MORNING]  
---
THE PLAYLISTS
NEW SHOWS 12:00, 16:00, 20:00 & 24:00 hrs CET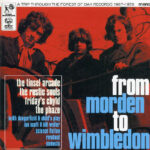 01 My GENERATION: OAK RECORDS: FROM MORDEN TO WIMBLEDON
RARE, FORGOTTEN & OVERLOOKED
Johnny Thunder: Loop de Loop (1962), Zoo-Lee-Oh (1964), I'm Alive (1969).
SPECIAL: FROM MORDEN TO WIMBLEDON
The Tinsel Arcade, The Phaze, Friday's Child, The Rustic Souls,  Friday's Child, Keith Dangerfield & Child's Play, The Glass Opening, feat. Keith Dangerfield, Rowboat, Ian Scott & Billy Weller [V.A. From Morden To Wimbledon. A Trip Through The Forest Of Oak Records 1967 – 1970).
LONG-PLAYTIME The Lemon Pipers Green Tambourine, LP.
AND ALSO LOVE & PEACE Peacepipe: Open Your Mind + WORD  Claude McKay If I Die.
THANKS TO Nigel Lees at TOPSOUNDS RECORDS for V.A. 'From Morden to Wimbledon (A Trip Through The Forest Of Oak Records 1967 – 1970)'.
MY REVIEW https://www.keysandchords.com/album-review-blog/various-artists-from-morden-to-wimbledon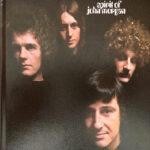 02 MY GENERATION BLUESiDE: THE SPIRIT OF JOHN MORGAN
LOVE & PEACE   A.B. SKHY It's Love baby 24 Hours A Day.
INSPIRATORS and ORIGINATORS
ROOSEVELT SYKES, feat. King Curtis on saxophone: Honeydripper, LP, 1961.
FRANK FROST & The Night Hawks: Hey Boss Man! LP, 1962.
SPECIAL    The Spirit of John Morgan
The Spirit of John Morgan, LP, recorded 1969.
KEEPERS OF THE BLUES FLAME
A.B. SKHY: A.B. SKHY, 1969 [Camel back] & THE PRETTY THINGS Bare As Bone [I'm Ready]
REPEATED SHOWS 14:00, 18:00, 22:00 & 02:00 hrs CET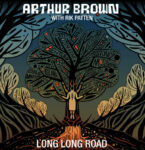 03 MY GNERATION :  ARTHUR BROWN 80 (* 24 June 1942)
RARE, FORGOTTEN & OVERLOOKED
The Diamonds /  Arthur Brown & The Diamonds: You'll Be Mine c/w You Don't Know It, 1955 single.
The Arthur Brown Set, feat. Vincent Crane: Don't Tell Me c/w Baby You Know What You're Doing, 1967 single.
Vincent Crane's Big Sound: Little Girl.
SPECIAL: Arthur Brown 80
Arthur Brown: Gypsy Voodoo, cd, 2019, choice tracks.
Arthur Brown: Long Long Road, cd, 2022  [title track, Going Down, I Like Games].
LONG-PLAYTIME
ATOMIC ROOSTER feat. Vincent Crane: Devil's Answer, Broken Wings.
LOVE & PEACE Thunderclap Newman: Something in the Air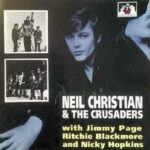 04 MY GENERATION BLUESIDE: Screaming Lord Sutch's Savage Neil Christian
STARTER
BOBBY PARKER    Watch Your Step
TREENITY
RITCHIE VALENS   Come On, Let's Go; Paddi-Wack Song ; Cry, Cry, Cry.
R&B MIX 1
NORMAN BEAKER & JOHN PRICE    Can't Be Satisfied (Between the Lines).
RHYTHM AND BLUES INC. Honey Don't.
THE ORIOLES Baby, Please Don't Go.
J.B. LENOIR I Feel So Good.
SPECIAL SAVAGE  NEIL CHRISTIAN & THE CRUSADERS
NEIL CHRISTIAN ( & CRUSADERS)
My Baby Left Me; Yakety Yak; with Nicky Hopkins and Jimmy Page I Like It ; Oops!
R&B MIX 2
JIMMY WITHERSPOON Back To New Orleans (Blue Spoon / In London)
EUGENE HIDEAWAY BRIDGES Farewell, My Darling (Roots and Vines)
RAY CHARLES Let the Good Times Roll (Atlantic R&B 4)
THE IKETTES I'm Blue (Atlantic R&B 5)
THE ARTWOODS  I Take What I Want (1966) 100 Oxford Street
JOHN MAYALL & BLUESBREAKERS  Suspicions pt. 1 (Thru The Years) (1967)
ZOOT MONEY & BIG ROLL BAND Teach Me (How To Uncle Willie)
BACKGROUND + MEER INFORMATIE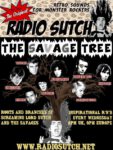 Screaming Lord Sutch & The Savages
My show 'The Savage Tree' was originally broadcast on the revived  Radio Sutch between 2014 and 2018.
'The Savage Tree' explores the rhythm and blues roots and branches of Screaming Lord Sutch and his backing-band The Savages.
With roughly fifty line-ups of The Savages to his name, Screaming Lord Sutch was backed by dozens and dozens of artists –  and that's not counting the many guests on his recordings.  Together, they make up the huge and unique Savage Tree. In each show, we take a closer look at the rhythm and blues output by individual Savages and bands counting Savages in their ranks.
Some 'Savages': Vince Taylor's Playboys, Alex Dmochovski, Carlo Little, Peter Parks, Matthew Fisher, Nicky Hopkins, Alan Clayson, Jim Leverton, Mick Abrahams, Cyril Davies, Geoff Everett, Richie Blackmore, Noel Redding, Neil Christian, Brian Parkinson, Brian Keith aka Brian O'Shea.
We also play  the originators and inspirators, and British, American and European artists who have kept the blues flame burning.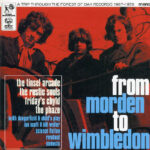 MY REVIEW / MIJN BESPREKING
V.A. FROM MORDEN to WIMBLEDON: A Trip Through the Forest of Oak Records, 1965-1970 
https://www.keysandchords.com/album-review-blog/various-artists-from-morden-to-wimbledon
DISCLAIMER
https://www.radio68.be/disclaimer/