My Generation Presents Radio Sutch: The Savage Tree with The Carlo Little All Stars feat. Long John Baldry + Mick Abrahams, PLUS The Kinks (BBC Sessions), Hound Dog Taylor *** Sunday 18 & Tuesday 19 April 2022 *** [Ed's Show, 2022-13]
NEW SHOW: My Generation presents Radio Sutch:  The Savage Tree with the Carlo Little All Stars feat. Long John Baldry, & Mick Abrahams, PLUS The Kinks (BBC Sessions), Hound Dog Taylor  ***  REPEATED  *** Soundtrack 'Revolution' [Steve Miller Band, QMS, Mother Earth], The Mothers Of Invention, The Web [Fully Interlocking], Every Mother's Son, East Of Eden ** Sunday 17 April 2022 & Tuesday 19 April 2022, 12:00 noon till 24:00 *** Time: CET Brussels ***  Ed's Show, 2022-12 (= Sutch nos. 10 and 13) . ***
RADIO 68: all the revolutionary sounds and voices that shaped the sixties ***
LIKE & JOIN RADIO 68
Like our Page https://www.facebook.com/radio68Belgium
Join our Group https://www.facebook.com/groups/613281298696645
Showtime CETime Brussels
12.00 Radio Sutch: Carlo Little All Stars, Mick Abrahams

14.00

Revolution (OST), The Web, Mothers Of Invention

16.00

Radio Sutch: Carlo Little All Stars, Mick Abrahams

18.00

Revolution (OST), The Web, Mothers Of Invention

20.00

Radio Sutch: Carlo Little All Stars, Mick Abrahams

22.00

Revolution (OST), The Web, Mothers Of Invention

24.00

 

[ENDS HERE ON TUESDAY] 



24.00

Radio Sutch: Carlo Little All Stars, Mick Abrahams

02.00

Revolution (OST), The Web, Mothers Of Invention

04.00 [ENDS HERE ON MONDAY MORNING]  
---
THE PLAYLISTS
NEW SHOWS 12:00, 16:00, 20:00 & 24:00 hrs CET 
01 RADIO SUTCH: The CARLO LITTLE ALL STARS
QUICKSTARTER: Johnny Winter; Lights Out (Guitar Slinger , 1984).
TREENITY: THE KINKS
Cadillac (BBC SESSIONS 1).
Wonder where my baby is tonight (Ibid.)
Good Luck Charm (Ibid.)
R&B  MIX 1
JOHN WOOLEY & JUST BORN: You're Lying (Sixties Archive).
THE FIVE KNIGHTS: Times are getting harder (New Orleans Soul 2).
TESTIMONIAL: Ken Major.
THE APPLE PIE MOTHERHOOD BAND: Brown-eyed Handsome Man (Apple Pie, '69).
BIG MAMA THORNTON: Everything Gonna Be Alright.
SAVAGE BRANCH: CARLO LITTLE ALL STARS
** DEMOS, never released, from Never Stop Rockin'  ***
Ace Café
Going Down Slow feat. Long John Baldry.
My Babe, feat. Long John Baldry.
Stormy Monday, feat. Long John Baldry.
Let's Go, Let's Go.
R&B MIX 2
SONNY BOY WILLIAMSON: Temperature 110.
THE CHOCOLATE WATCH BAND: Let's Talk About Girls (No Way Out, 1967).
BILLY BOY ARNOLD: I Ain't Got You.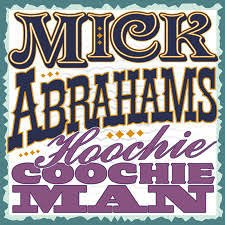 02 RADIO SUTCH:  MICK ABRAHAMS
QUICKSTARTER LITTLE RICHARD: Kansas City.
TREENITY:  HOUND DOG TAYLOR & HOUSEROCKERS
Wild About You baby (Release the Hound, live 1974, released 2004),.
It Hurts Me Too (Ibid., (live 1971).
Give me back my wig (HDT & The Houserockers).
R&B  MIX 1
JOHN RENBOURN: Louisiana Blues, 1st LP, 1965.
ALAN PRICE & GEORGIE FAME: That's How Strong My Love Is.
PAUL JONES: Lonely Nights (Suddenly I Like It 2015).
THE SHAKES:  Shoot Me Baby
SAVAGE BRANCH: Mick ABRAHAMS
She's Into Something (< Hoochie Coochie Man, recorded 2003-04, released 2013).
Poor Boy – (Abrahams, ibid.).
Cornbread and Peas, ibid.
Ain't no love in the heart of the city (Mick's Back, 1996).
R&B MIX 2
FOUR+1 (Keith West): Don't Lie to Me, 1965.
LES BAROQUES: Frankie's Blues
 REPEATED SHOWS 14:00, 18:00, 22:00 & 02:00 hrs CET
03 MY GENERATION : REVOLUTION (Soundtrack) 
LOVE, PEACE & UNDERSTANDING  Ed Askew: Love Is Everyone (LP 'Ask The Unicorn', 1968).
FORGOTTEN & OVERLOOKED ? & The Mysterians: Do Something To Me.
SPECIAL: REVOLUTION (OST) feat. The Steve Miller band, Quicksilver Messenger Service and Mother Earth  (United Artists 1968).
LONGPLAYTIME  East Of Eden (Mercator Projected, 1969) + Every Mother's Son (EMS Is Back, 1967).
WORD  Jan Ducheye: N'importe Quoi.
04 MY GENERATION BLUESIDE : THE WEB: War Or Peace
LOVE & PEACE Boudewijn De Groot: Ken je het land?
FORGOTTEN & OVERLOOKED The Lemon Pipers + Billy J. Kramer & The Dakotas + Johnny Rivers + The Flock.
SPECIAL:  The Web:  War or Peace, Sunday Joint, Reverend J. McKinnon  (LP Fully Interlocking, 1968).
LONGPLAYTIME The Syndicate Of Sound (LP Little Girl) + The Mothers Of Invention (Freak Out! 2012 Remasters) + Kaleidoscope (LP Tangerine Dream).
AND ALSO Reparata & The Delrons + Eddie Cochran.
WORD   The Mothers Of Invention: Who Are the Brain Police, Trouble Every Day (Freak Out!) + Allen Ginsberg: After The Big Parade
 BACKGROUND + MEER INFORMATIE
CARLO LITTLE
https://www.eddybonte.be/rolling-stones/voetnoten/carlo-little/carlo-little-cd-launch-party-of-never-stop-rockin/
https://www.eddybonte.be/rolling-stones/voetnoten/carlo-little/never-stop-rockin-carlo-little-s-solo-cd/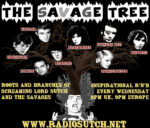 My show 'The Savage Tree' on Radio Sutch 
Screaming Lord Sutch & The Savages 
My show 'The Savage Tree' was originally broadcast on the revived  'Radio Sutch' between 2014 and 2018.
'The Savage Tree' explores the rhythm and blues roots and branches of Screaming Lord Sutch and his backing-band The Savages.
With roughly fifty line-ups of The Savages to his name, Screaming Lord Sutch was backed by dozens and dozens of artists –  and that's not counting the many guests on his recordings.  Together, they make up the huge and unique Savage Tree.
1) In each show, we take a closer look at the rhythm and blues output by individual Savages and bands counting Savages in their ranks.
Some 'Savages': Vince Taylor's Playboys, Alex Dmochovski, Carlo Little, Peter Parks, Matthew Fisher, Nicky Hopkins, Alan Clayson, Jim Leverton, Mick Abrahams, Cyril Davies, Geoff Everett, Richie Blackmore, Noel Redding, Neil Christian, Brian Parkinson, Brian Keith aka Brian O'Shea.
2) We also play  the originators and inspirators, and
3) British, American and European artists who have kept the R&B flame burning.
REVOLUTION Original Soundtrack, UA 1968
About the movie
" Revolution is a documentary film by Jack O'Connell made in San Francisco in 1967. It was subsequently revived with added reminiscences. Although most interviewees are not named some of them have been identified, such as Kurt Hirschhorn, Frank Jordan, Cecil Williams and Herb Caen. [1] Daria Halprin appears in the film as herself. [2] Also appearing in the film are the Ace of Cups, Country Joe and the Fish, and Dan Hicks. The soundtrack album features Steve Miller Band, Quicksilver Messenger Service, and Mother Earth who also appear in the film. It was released in 1968 by United Artists Records (UAS 5185) and produced by Ben Shapiro .[3] It was released both in stereo and mono versions" (Source Wikipedia).
Mother Earth: Revolution  (excerpt)
There's a new world a comin' near
Singing loud and clear
Revolution.
Feel that rumblin' along the ground;
It's a mighty sound
Revolution.
It's the sound of the Mourning Dove
People joining hands in love
Sharing joys and dreams of love
From now and for every soul
Hear the good times roll
Revolution.
Every man, woman, child on Earth
Get a free rebirth
Revolution.
(…)
Written by Jack O'Connell, Norman Martin © All Rights Reserved
THE WEB: Fully Interlocking, 1968
"One of the more eclectically inclined bands to emerge out of the British psychedelic scene, the Web hailed from the same neck of the woods as Robert Fripp, Greg Lake, and Al Stewart, and very much shared in the same serious outlook that characterized those talents. Jazz-tinged and blues-laden, the Web moved to London in 1966, eventually signing to one of the few labels that actually seemed geared toward their darkly uncommercial brew, Decca's Deram subsidiary, but the three albums the band cut were never going to set the charts on fire, no matter how sincerely atmospheric the music therein.
Moodily produced by Mike Vernon, 1968's Fully Interlocking debut is generally regarded as the band's finest hour, a thoughtful and oftentimes dense exploration of themes, rhythms, and melancholies that were uniquely their own. Three bonus tracks then bounce this reissue up to 13 songs via an intoxicating blueprint for Blood, Sweat & Tears' "I'm a Man" and "God Bless the Child," and — standing out like more sore thumbs than any single band should be able to raise — the Bee Gees' "To Love Somebody." What were they thinking? ".
by Dave Thompson Quoted From / All Rights Reserved: http://therockasteria.blogspot.com/2017/01/the-web-fully-interlocking-1968-uk.html
THANKS TO
MY REVIEW / MIJN BESPREKING
DISCLAIMER
https://www.radio68.be/disclaimer/My Generation