My Generation presents Radio Sutch: Carlo Little with The Rolling Stones, Cyril Davies, Long John Baldry, Jeff Beck, Casey Jones & Alex Dmochovski with John Mayall, Graham Bond, Champion Jack Dupree & ALSO: Bo Diddley, Manfred Mann *** Sunday 25 & Tuesday 27 December 2022 *** [Ed's Show, 2022-44]
NEW  Carlo Little with The Rolling Stones, Cyril Davies, Long John Baldry, Jeff Beck, Casey Jones & Alex Dmochovski with John Mayall, Graham Bond, Champion Jack Dupree & ALSO: Bo Diddley, Manfred Mann ***  REPEATED ***  Howlin' Wolf feat. Charlie Watts, Eric Clapton, Bill Wyman; Sam Cooke, Twink Special: The Pretty Things, In Crowd, Fairies, Tomorrow; The Overlanders, The Spencer Davis Group ***  Ed's Show, 2022-44 [Sutch_19 & Sutch_22] *** Sunday 25 December 2022, 12:00 > Monday 04:00 CET & Tuesday 27 December 2022  12:00 > 24:00 hrs CET ***  *** RADIO 68: all the revolutionary sounds and voices that shaped the sixties **
LIKE & JOIN RADIO 68  Like our Page https://www.facebook.com/radio68Belgium
Join our Group https://www.facebook.com/groups/613281298696645
Showtime CETime Brussels
12.00 Carlo Little, Alex Dmochovski pt. 2, Bo Diddley, Manfred Mann
14.00 Howlin' Wolf, Twink, Overlanders
16.00 Carlo Little, Alex Dmochovski pt. 2, Bo Diddley, Manfred Mann
18.00 Howlin' Wolf, Twink, Overlanders
20.00 Carlo Little, Alex Dmochovski pt. 2, Bo Diddley, Manfred Mann
22.00 Howlin' Wolf, Twink, Overlanders
24.00  [ENDS HERE ON TUESDAY]
24.00 Carlo Little, Alex Dmochovski pt. 2, Bo Diddley, Manfred Mann
02.00 Howlin' Wolf, Twink, Overlanders
04.00 [ENDS HERE ON MONDAY MORNING]
THE PLAYLISTS
01 MY GENERATION (new show: 12:00, 16:00, 20:00 and 02:00 hrs CET)
PRESENTS RADIO SUTCH: CARLO LITRLE (R.I.P. 2005).
QUICKSTARTER
JIMMY McGRIFF I Got A Woman (Mod Jazz, Wild Side2) .
TREENITY:  MANFRED MANN
MANFRED MANN Tired of Trying, Bored with Lying, Scared of Dying (Essential).
MANFRED MANN Can't Believe It ((Down Road vol. 2).
MANFRED MANN What am I Doing Wrong (Down Road vol. 2).
BRANCH:  CARLO LITTLE, drummer (R.I.P. 2005)
THE ROLLING STONES Roll Over Beethoven (BBC, cd1, 1963).
THE ROLLING STONES Don't Lie To Me (BBC, cd1, 1964).
CYRIL DAVIES R&B ALL STARS Someday Baby (Memorial, cd2) 1963.
CYRIL DAVIES R&B ALL STARS Sweet Mary (Memorial, cd2) 1963.
NEIL CHRISTIAN My baby's Left Me, single A-side, 1968.
NEIL CHRISTIAN Yakety Yak, same, b-side.
SOUL SURVIVAL (1967)  You Can't Sit Down (unreleased Soul Sounds).
HURRICANE (1973, unreleased) Bit By the Blues (Hopkins, Little).
CARLO LITTLE ALL STARS 2009 Iko Iko, feat. Long John Baldry.
CARLO LITTLE ALL STARS 2009 Mystery Train, Long John Baldry, Jeff Beck.
CASEY JONES & SAVAGES One-Way Ticket (1963, A-side, unreleased).
THE IMMEDIATE ALL STARS Steelin' (J Page, gtr. J Beck), BLUES ANYTIME vol. 3, 1965.
AND ALSO
JIM PEMBROKE & BLUES SECTION Hey Hey hey (Some of Love, 1967, Love Records, Finland).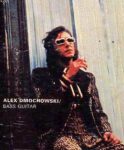 02 MY GENERATION (new show: 1300, 1700, 2100 and 0100 hrs CET)
PRESENTS RADIO SUTCH: ALEX DMOCHOVSKI  pt. 2
QUICKSTARTER
Eddie Fontaine Chess Nothin's Shakin' (But The Leaves On The Trees).
TREENITY:  BO DIDDLEY
Say Man (Chess Rhythm and Roll) + I  Love you So  (ibid.) + Bo Diddley (bid.)
BRANCH:  ALEX DMOCHOVSKI pt. 2, bass-player
JOHN MAYALL California (live).
GRAHAM BOND Forbidden Fruit pt. 1 (We Put the Magick On You, 1971).
GRAHAM BOND Moving Towards the Light (ibid.).
HEAVY JELLY (Angel Air) Take Me Down to the Water lost album 1970.
HEAVY JELLY (bid.) Bio-Blues, ibid.
CHAMPION JACK DUPREE I want to be a Hippy (Scoobydoobydoo, 1969).
R&B MIX
LITTLE MILTON Who's Cheatin' Who (Chess Rhythm and Roll).
GENE SIMMONS Goin' Back to Memphis (ibid.)
03 MY GENERATION  (repeated show 14:00, 18:00, 22:00, 02:00 hrs CET)
SPECIAL  TWINK , pt. 1: (aka John Adler) with The In Crowd, Tomorrow, The Fairies, Pretty Things  ** THREESOME: THE OVERLANDERS, LP "Michelle", 1965 ** LONGPLAYING:  BLODWYN PIG: Ahead RIngs Out, 1969 ; WAYNE FONTANA: Wayne One 1966 ; THE HOLLIES: HOLLIES SING DYLAN **  AND ASO EDDY MITCHELL, THE EVERLY BROS., THE KINKS , SAM COOKE, etcetera.
04 MY GENERATION BLUESUDE (repeated show: 15:00, 17:00, 23:00 & 03:00 hrs CET)
HOWLIN' WOLF THE  LONDON SESSIONS, 1971  feat. Bill Wyman, Charlie Watts, Klaus Voormann,  Eric Clapton, Hubert Sumlin, Ian Stewart  Ringo Starr + * SPENCER DAVIS GROUP + CREAM + ROLLING STONES live 1965  ** MANDRED MANN feat. Klaus Voormann ** ELVIS,  SNOOKY PRYOR & JOHNNY SHINES.
BACKGROUND + MEER INFORMATIE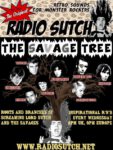 RADIO SUTCH
Screaming Lord Sutch & The Savages 
My show 'The Savage Tree' was originally broadcast on the revived  Radio Sutch beteen 2014 and 2018.
'The Savage Tree' explores the rhythm and blues roots and branches of Screaming Lord Sutch and his backing-band The Savages.
With roughly fifty line-ups of The Savages to his name, Screaming Lord Sutch was backed by dozens and dozens of artists –  and that's not counting the many guests on his recordings.  Together, they make up the huge and unique Savage Tree. In each show, we take a closer look at the rhythm and blues output by individual Savages and bands counting Savages in their ranks.
Some 'Savages': Vince Taylor's Playboys, Alex Dmochovski, Carlo Little, Peter Parks, Matthew Fisher, Nicky Hopkins, Alan Clayson, Jim Leverton, Mick Abrahams, Cyril Davies, Geoff Everett, Richie Blackmore, Noel Redding, Neil Christian, Brian Parkinson, Brian Keith aka Brian O'Shea.
We also play  the originators and inspirators, and British, American and European artists who have kept the blues flame burning.
HOWLIN' WOLF LONDON SESSIONS
"Put simply, the Wolf album is his best in years. In addition to the above-cited personnel, Wolf is also assisted by other Chicago-based bluesmen on the order of Hubert Sumlin, on rhythm guitar, and pianist Lafayette Leake, while other English-based session participants include Jeff Carp, Ian Stewart and Klaus Voormann. But, the basic band of Clapton, Winwood, Wyman and Watts playing those old Chess blues licks that they all started their careers with were the exact propulsion that Howlin' Wolf needed to get in the mood that results in thirteen blues-stellar performances. (…) But, the unadulterated success of this disc is due to the Wolf's still-brooding, blues-malevolent vocal expertise. Fully as good as Sonny Boy Williamson II's fabled mid-Sixties work-outs with the Yardbirds or Memphis Slim's latest Blue Memphis album".  From: www.rollingstone.com
TWINK
"There aren't many drummers like John Alder, often called just "Twink". He was part of many absolutely groundbreaking bands and met and played with so many amazing musicians. His carrier started with Tomorrow, that recorded a psych monster LP. Later he joined forces with The Pretty Things and with them he recorded S.F.Sorrow, that is one of the pinnacle albums in the psychedelia and an early example of conceptual albums. In July 1969, John took the opportunity to record his own album with members of The Deviants (Paul Randolph), The Pretty Things (Wally Allen, John Povey), Tyrannosaurus Rex (Steve Peregrin Took) and Tomorrow (John "Junior" Wood). The album was produced by The Deviant's Mick Farren. Twink would later play on Mick Farren's solo debut, Mona the Carnivorous Circus, with Steve Peregrin Took.  (…).  Source: http://psychedelicbaby.blogspot.be  where you will find an interview with John Adler:
http://psychedelicbaby.blogspot.be/2012/11/tomorrow-pretty-things-pink-fairies.html
MY REVIEW / MIJN BESPREKING:
MY REVIEW OF RENAISSANCE: Live At the Fillmore West 1970:
http://www.eddybonte.be/just-good-music/blues/yardbirds-world/renaissance-live-fillmore-west-1970/
DISCLAIMER
https://www.radio68.be/disclaimer/