My Generation *** Presenting Radio Sidney, Canada: The Presidents Special with Bruce Welsh + The Merseys and Friends (Johnny and John, The Crackers, The Johnny Gus Set) *** Sunday 24 and Tuesday 26 April 2022 *** [Ed's Show, 2022-14]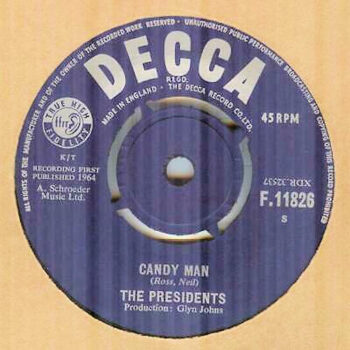 NEW SHOW: Presenting Radio Sidney, Canada: The Presidents Special with Bruce Welsh + The Merseys and Friends (Johnny and John, The Crackers, The Johnny Gus Set) ***  REPEATED  *** My Generation presents Radio Sutch:  The Savage Tree with the Carlo Little All Stars feat. Long John Baldry, & Mick Abrahams, PLUS The Kinks (BBC Sessions), Hound Dog Taylor *** Sunday 24 April 2022 & Tuesday 19 April 2022, 12:00 noon till 24:00 *** Time: CET Brussels ***  Ed's Show, 2022-14  (Merseys = 2018-48) ***
RADIO 68: all the revolutionary sounds and voices that shaped the sixties ***
LIKE & JOIN RADIO 68
Like our Page https://www.facebook.com/radio68Belgium
Join our Group https://www.facebook.com/groups/613281298696645
Showtime CETime Brussels
12.00 The Presidents, The Merseys

14.00

Radio Sutch: Carlo Little All Stars, Mick Abrahams

16.00

The Presidents, The Merseys

18.00

Radio Sutch: Carlo Little All Stars, Mick Abrahams

20.00 T

he Presidents, The Merseys

22.00

Radio Sutch: Carlo Little All Stars, Mick Abrahams

24.00

 

[ENDS HERE ON TUESDAY] 



24.00

The Presidents, The Merseys

02.00

Radio Sutch: Carlo Little All Stars, Mick Abrahams

04.00 [ENDS HERE ON MONDAY MORNING]  
---
THE PLAYLISTS
NEW SHOWS 12:00, 16:00, 20:00 & 24:00 hrs CET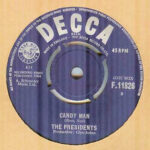 01 MY GENERATION presents 'WHAT ABOUT US?': The Presidents
Canadian DJ Bruce Welsh interviews President Robin Mayhew about The Presidents and plays their recordings.
02 MY GENERATION: THE MERSEYS
LOVE & PEACE  H.P. LOVECRAFT:  Let's Get Together
FORGOTTEN & OVERLOOKED: THE WHO: Sad About Us + LES BAROQUES: Sure He' A Cad + The McCOYS: Sorrow.
SPECIAL  THE MERSEYS: Sorrow, The Cat, Penny In My Pocket, Sad About Us, Rhythm Of Love, Honey Do [as The Crackers (singles A-side, 1966-68) + JOHNNY and JOHN: Bumper to Bumper + THE JOHNNY GUS SET: Sweet Day.
LONGLAYTIME BIG BROTHER & THE HOLDING COMPANY: Catch Me Daddy (Live) + JETHRO TULL (Cat's Squirrel, LP 'This Was', 1968) + MOBY GRAPE (Murder In My Heart For the Judge, LP 'Wow', 1968).
FREE Hippie Chick + Ken Kesey  on LSD.
 REPEATED SHOWS 14:00, 18:00, 22:00 & 02:00 hrs CET
03 MY GENERATION BLUESIDE : RADIO SUTCH: The CARLO LITTLE ALL STARS
QUICKSTARTER: Johnny Winter; Lights Out (Guitar Slinger , 1984).
TREENITY: THE KINKS
Cadillac (BBC SESSIONS 1), Wonder where my baby is tonight (Ibid.), Good Luck Charm (Ibid.)
R&B  MIX 1
JOHN WOOLEY & JUST BORN: You're Lying (Sixties Archive).
THE FIVE KNIGHTS: Times are getting harder (New Orleans Soul 2).
TESTIMONIAL: Ken Major.
THE APPLE PIE MOTHERHOOD BAND: Brown-eyed Handsome Man (Apple Pie, '69).
BIG MAMA THORNTON: Everything Gonna Be Alright.
SAVAGE BRANCH: CARLO LITTLE ALL STARS
** DEMOS, never released, from Never Stop Rockin'  ***
Ace Café * Going Down Slow feat. Long John Baldry * My Babe, feat. Long John Baldry * Stormy Monday, feat. Long John Baldry * Let's Go, Let's Go.
R&B MIX 2
SONNY BOY WILLIAMSON: Temperature 110 + THE CHOCOLATE WATCH BAND: Let's Talk About Girls (No Way Out, 1967) + BILLY BOY ARNOLD: I Ain't Got You.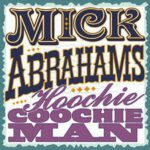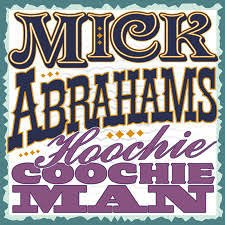 04 MY GENERATION BLUESIDE :  RADIO SUTCH:  MICK ABRAHAMS
QUICKSTARTER LITTLE RICHARD: Kansas City.
TREENITY:  HOUND DOG TAYLOR & HOUSEROCKERS
Wild About You baby (Release the Hound, live 1974, released 2004), It Hurts Me Too (Ibid., (live 1971), Give me back my wig (HDT & The Houserockers).
R&B  MIX 1
JOHN RENBOURN: Louisiana Blues, 1st LP, 1965.
ALAN PRICE & GEORGIE FAME: That's How Strong My Love Is.
PAUL JONES: Lonely Nights (Suddenly I Like It 2015).
THE SHAKES:  Shoot Me Baby
SAVAGE BRANCH: Mick ABRAHAMS
She's Into Something (< Hoochie Coochie Man, recorded 2003-04, released 2013) + Poor Boy – (Abrahams, ibid.) + Cornbread and Peas, ibid. + Ain't no love in the heart of the city (Mick's Back, 1996).
R&B MIX 2
FOUR+1 (Keith West): Don't Lie to Me, 1965 + LES BAROQUES: Frankie's Blues
 BACKGROUND + MEER INFORMATIE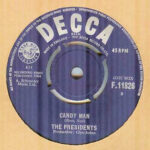 THE PRESIDENTS
The Presidents: 1959 to 1965
The Presidents was formed in 1959, and played mainly in pubs and clubs throughout the South London suburbs, experiencing numerous personnel changes until it dissolved in 1965. Over the years they played alongside bands such as The Who, The Rolling Stones, The Animals, and Georgie Fame.
Singer Rick Tyrell was a member of The Fenders aka The Strangers, who became The Roulettes in September  1961.
http://www.the-presidents.org.uk/index.htm
ABOUT RICK TYRELL and THE ROULETTES: https://www.eddybonte.be/just-good-music/pop/the-roulettes/side-stories/from-senator-to-president-rick-tyrell/
RADIO SIDNEY: 'WHAT ABOUT US?'  by BRUCE WELSH
'What About Us?' showcases the thousands of "other guys" who were turning out records in the U.K. between 1962 and 1969.  A few may have had fleeting success with a one hit wonder tune but like all the big names of the day, they were just trying to make it big.  Some of them enjoyed major success outside the U.K. over in Germany, France, Italy and Sweden and experienced the frenzied girls screaming and chasing them.  A number of these bands also contained members who would eventually crack the big time with other bands but they paid their dues in these lesser known bands before finding success.
As for a bit on me, I'd just use the About The Author  of  "What About Us?: A Rocklopaedia of Britain's Other Recording Groups 1962-1966 " (M-Y Books UK) https://m-ybooks.co.uk/
Bruce Welsh, Radio Sidney  https://www.radiosidney.ca/about-us
CARLO LITTLE
https://www.eddybonte.be/rolling-stones/voetnoten/carlo-little/carlo-little-cd-launch-party-of-never-stop-rockin/
https://www.eddybonte.be/rolling-stones/voetnoten/carlo-little/never-stop-rockin-carlo-little-s-solo-cd/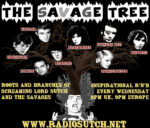 My show 'The Savage Tree' on Radio Sutch 
Screaming Lord Sutch & The Savages 
My show 'The Savage Tree' was originally broadcast on the revived  'Radio Sutch' between 2014 and 2018.
'The Savage Tree' explores the rhythm and blues roots and branches of Screaming Lord Sutch and his backing-band The Savages.
With roughly fifty line-ups of The Savages to his name, Screaming Lord Sutch was backed by dozens and dozens of artists –  and that's not counting the many guests on his recordings.  Together, they make up the huge and unique Savage Tree.
1) In each show, we take a closer look at the rhythm and blues output by individual Savages and bands counting Savages in their ranks.
Some 'Savages': Vince Taylor's Playboys, Alex Dmochovski, Carlo Little, Peter Parks, Matthew Fisher, Nicky Hopkins, Alan Clayson, Jim Leverton, Mick Abrahams, Cyril Davies, Geoff Everett, Richie Blackmore, Noel Redding, Neil Christian, Brian Parkinson, Brian Keith aka Brian O'Shea.
2) We also play  the originators and inspirators, and
3) British, American and European artists who have kept the R&B flame burning.
THANKS TO
BRUCE WELSH for allowing Radio 68 to broadcast his Presidents Special, originally produced for Radio Sidney in Canada:
https://www.radiosidney.ca/about-us

MY REVIEW / MIJN BESPREKING
DISCLAIMER
https://www.radio68.be/disclaimer/