My Generation *** The Revolutionary Sounds and Voices that Shaped the Sixties * Soundtrack 'Revolution' [Steve Miller Band, QMS, Mother Earth], The Mothers Of Invention, The Web [Fully Interlocking], Every Mother's Son, East Of Eden *** Sunday 10 & Tuesday 12 April 2022 [Ed's Show, 2022-12]
NEW SHOW: Soundtrack 'Revolution' [Steve Miller Band, QMS, Mother Earth], The Mothers Of Invention, The Web [Fully Interlocking], Every Mother's Son, East Of Eden ***  REPEATED  *** Australian Psych, The Five Americans, Cannonball Adderley Quintet, Bakerloo, Colosseum, Big Bertha, Fats Domino *** Sunday 10 April 2022 & Tuesday 12 April 2022, 12:00 noon till 24:00 *** Time: CET Brussels ***  Ed's Show, 2022-12 (=201842&43). ***
RADIO 68: all the revolutionary sounds and voices that shaped the sixties ***
LIKE & JOIN RADIO 68
Like our Page https://www.facebook.com/radio68Belgium
Join our Group https://www.facebook.com/groups/613281298696645
Showtime CETime Brussels
12.00 Revolution (OST), The Web, Mothers Of Invention

14.00

Austrialan Psych, Bakerloo, Colosseum

16.00

Revolution (OST), The Web, Mothers Of Invention

18.00

Austrialan Psych, Bakerloo, Colosseum

20.00

Revolution (OST), The Web, Mothers Of Invention

22.00

Austrialan Psych, Bakerloo, Colosseum

24.00

 

[ENDS HERE ON TUESDAY] 



24.00

Revolution (OST), The Web, Mothers Of Invention

02.00

Austrialan Psych, Bakerloo, Colosseum

04.00 [ENDS HERE ON MONDAY MORNING] 

Austrialan Psych, Bakerloo, Colosseum
---
THE PLAYLISTS
NEW SHOWS 12:00, 16:00, 20:00 & 24:00 hrs CET 
01 MY GENERATION: REVOLUTION (Soundtrack) 
LOVE, PEACE & UNDERSTANDING  Ed Askew: Love Is Everyone (LP 'Ask The Unicorn', 1968).
FORGOTTEN & OVERLOOKED ? & The Mysterians: Do Something To Me.
SPECIAL: REVOLUTION (OST) feat. The Steve Miller band, Quicksilver Messenger Service and Mother Earth  (United Artists 1968).
LONGPLAYTIME  East Of Eden (Mercator Projected, 1969) + Every Mother's Son (EMS Is Back, 1967).
WORD  Jan Ducheye: N'importe Quoi.
02 MY GENERATION: THE WEB: War Or Peace
LOVE & PEACE Boudewijn De Groot: Ken je het land?
FORGOTTEN & OVERLOOKED The Lemon Pipers + Billy J. Kramer & The Dakotas + Johnny Rivers + The Flock.
SPECIAL:  The Web:  War or Peace, Sunday Joint, Reverend J. McKinnon  (LP Fully Interlocking, 1968).
LONGPLAYTIME The Syndicate Of Sound (LP Little Girl) + The Mothers Of Invention (Freak Out! 2012 Remasters) + Kaleidoscope (LP Tangerine Dream).
AND ALSO Reparata & The Delrons + Eddie Cochran.
WORD   The Mothers Of Invention: Who Are the Brain Police, Trouble Every Day (Freak Out!) + Allen Ginsberg: After The Big Parade
 REPEATED SHOWS 14:00, 18:00, 22:00 & 02:00 hrs CET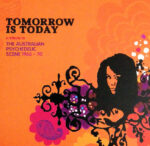 03 MY GENERATION : AUSTRALIA 's PSYCH SCENE
RARE, FORGOTTEN & OVERLOOKED
THE HONDELLS
SPECIAL:  AUSTRALIA 's PSYCH SCENE
IAN D. MARKS, EVEN, TARANTULA [2cd 'Tomorrow Is Today. A Tribute to The Australian Psychedelic Scene 1966-1970′.
THE DAVE MILLER SET.
+ BILLY THORPE & THE AZTECS.
LONG-PLAYTIME
CANNONBALL ADDERLEY QUINTET, introduction Jesse Jackson: Country Preacher, LP, 1969.
THE FIVE AMERICANS: Progressions, LP, 1967.
04 MY GENERATION BLUESIDE : BAKERLOO, COLOSSEUM
INSPIRATORS and ORIGINATORS
FATS DOMINO: A Lot Of Dominoes, LP, 1960.
SPECIAL BAKERLOO, feat. Dave Clempson: Bakerloo, LP, 1969.
BIG BERTHA, feat. Ace Kefford, Cozy Powell , Peter French: single  The World's An Apple c/w Gravy Booby Jamm, 1969.
COLOSSEUM: Those Who Are About to Die, LP, 1969.
KEEPERS OF THE BLUES FLAME THE DOORS: Who Do You Love [Absolutely Live].
THE KINKS: Everybody's Gonna Be Happy [Kinda Kinks],  I Took My Baby Home [Kinks].
AND ALSO WORD: JIM MORRISON + LOVE & PEACE:  LAZY LESTER I'm A Lover, Not A Fighter.
 BACKGROUND + MEER INFORMATIE
REVOLUTION Original Soundtrack, UA 1968
About the movie
" Revolution is a documentary film by Jack O'Connell made in San Francisco in 1967. It was subsequently revived with added reminiscences. Although most interviewees are not named some of them have been identified, such as Kurt Hirschhorn, Frank Jordan, Cecil Williams and Herb Caen. [1] Daria Halprin appears in the film as herself. [2] Also appearing in the film are the Ace of Cups, Country Joe and the Fish, and Dan Hicks. The soundtrack album features Steve Miller Band, Quicksilver Messenger Service, and Mother Earth who also appear in the film. It was released in 1968 by United Artists Records (UAS 5185) and produced by Ben Shapiro .[3] It was released both in stereo and mono versions" (Source Wikipedia).
Mother Earth: Revolution  (excerpt)
There's a new world a comin' near
Singing loud and clear
Revolution.
Feel that rumblin' along the ground;
It's a mighty sound
Revolution.
It's the sound of the Mourning Dove
People joining hands in love
Sharing joys and dreams of love
From now and for every soul
Hear the good times roll
Revolution.
Every man, woman, child on Earth
Get a free rebirth
Revolution.
(…)
Written by Jack O'Connell, Norman Martin © All Rights Reserved
THE WEB: Fully Interlocking, 1968
"One of the more eclectically inclined bands to emerge out of the British psychedelic scene, the Web hailed from the same neck of the woods as Robert Fripp, Greg Lake, and Al Stewart, and very much shared in the same serious outlook that characterized those talents. Jazz-tinged and blues-laden, the Web moved to London in 1966, eventually signing to one of the few labels that actually seemed geared toward their darkly uncommercial brew, Decca's Deram subsidiary, but the three albums the band cut were never going to set the charts on fire, no matter how sincerely atmospheric the music therein.
Moodily produced by Mike Vernon, 1968's Fully Interlocking debut is generally regarded as the band's finest hour, a thoughtful and oftentimes dense exploration of themes, rhythms, and melancholies that were uniquely their own. Three bonus tracks then bounce this reissue up to 13 songs via an intoxicating blueprint for Blood, Sweat & Tears' "I'm a Man" and "God Bless the Child," and — standing out like more sore thumbs than any single band should be able to raise — the Bee Gees' "To Love Somebody." What were they thinking? ".
by Dave Thompson Quoted From / All Rights Reserved: http://therockasteria.blogspot.com/2017/01/the-web-fully-interlocking-1968-uk.html
THANKS TO
MY REVIEW / MIJN BESPREKING
DISCLAIMER
https://www.radio68.be/disclaimer/My Generation