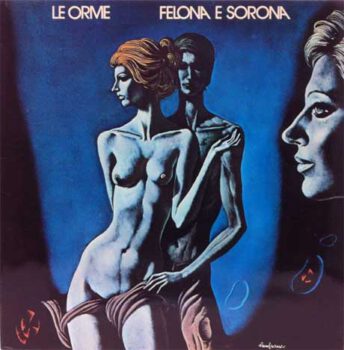 Psychedelic, heavy, prog and more innovating sounds spanning the late 60s and the early 70s – Wednesday November 16th. Dan's pick of the week: Le Orme (Felona E Sorona), Franco Battiato (Sulle Corde Di Aries), Supersister (Present From Nancy), Semiramis (Dedicato a Frazz), Locanda Delle Fate (Live) & Grobschnitt (Jumbo).
Het concept-album Felona e Sorona wordt algemeend beschouwd als Le Orme's magnum opus. Het trio, bestaande uit Aldo Tagliapietra (zang, bas, gitaar), Toni Pagliuca (orgel, mellotron, piano), en Michi Dei Rossi (drums), produceerde enkele van de beste Italiaanse progressieve rock ooit opgenomen. Beïnvloed door Emerson, Lake & Palmer en Genesis, smeedde de band hun eigen unieke mix van verfijnde symfonische progrock.
Dick van der Heijde van Prog Wereld: "Veel meer dan op hun voorganger Uomo Di Pezza zit er een coherentie in het materiaal waardoor alle muzikale daden perfect samenvallen.… Read more...