60s ALbums Only Radio: Long-playtime *** Light Psych with The Bee Gees [1st], The Beau Brummels [Triangle], The Chambers Brothers [Time Has Come Today], Pearls Before Swine [One Nation Underground] + The Nice [Thoughts Of Everlist Davjack] *** Monday 18 October 2021 *** [Ed's Show, 2021-34]
NEW SHOW : Light Psych with The Bee Gees [1st], The Beau Brummels [Triangle], The Chambers Brothers [Time Has Come Today], Pearls Before Swine [One Nation Underground] + The Nice [Thoughts Of Everlist Davjack]*** REPEATED SHOW The Soundtracks: Zabriskie Point, Blow-Up, Here We Go 'Round The Mulberry Bush     *** Monday 18 October 2021, 12:00 noon till  04:00 in the morning *** Time Zone CET Brussels, Paris, Berlin *** [2021-34 no. 195 = 2017-05] ***
RADIO 68: ALL THE REVOLUTIONARY SOUNDS AND VOICES THAT SHAPED THE SIXTIES 
---
LIKE & JOIN RADIO 68
Like our Page https://www.facebook.com/radio68Belgium
Join our Group https://www.facebook.com/groups/613281298696645
Showtime CETime Brussels 
12:00 Bee Gees, Beau Brummels, Chambers Bros., The Nice

14:00 

Zabriskie Point, Blow-Up, Here We Go 'Round The Mulberry Bush

16:00

Bee Gees, Beau Brummels, Chambers Bros., The Nice

18.00

Zabriskie Point, Blow-Up, Here We Go 'Round The Mulberry Bush

20:00

Bee Gees, Beau Brummels, Chambers Bros., The Nice

22:00

Zabriskie Point, Blow-Up, Here We Go 'Round The Mulberry Bush

24:00

Bee Gees, Beau Brummels, Chambers Bros., The Nice

02:00

Zabriskie Point, Blow-Up, Here We Go 'Round The Mulberry Bush

04:00 Show Ends Here  
01 NEW SHOW: LGHT PSYCH with THE BEE GEES, BEAU BRUMMELS, CHAMBER BROS.
THE NICE, feat. Davy O'List and Keith Emerson:  THE THOUGHTS OF EMERLIST DAVJACK (1967).
SPECIAL:  LIGHT PSYCH:
THE BEAU BRUMMELS: TRIANGLE, 1967 *** .
THE CHAMBERS BROTHERS: THE TIME HAS COME TODAY, 1967 ***
PEARLS BEFORE SWINE: ONE NATION UNDERGROUND, 1967, side A ***
THE BEE GEES: FIRST, 1967, side A ***
WORD & POETRY: Bruce Kent on the Nuclear Disarmament Movement, The War Game, L'Internationale, Frank Zappa on Fascist Theocracy in the USA.
02 REPEATED SHOW:  ZABRISKIE POINT, BLOW-UP, MULBERRY BUSH
ZABRISKIE POINT, Antonioni, 1970 (entire album): The Pink Floyd, Grateful Dead, The Kaleidoscope, Roscoe Holcomb, John Fahey, Jerry Garcia, Patti Page **
BLOW-UP, Antonioni, 1967 (choice tracks): Herbie Hancock, The Yardbirds, Tomorrow (two outtakes), Unknown Studio Musicians **
HERE WE GO ROUND THE MULBERRY BUSH, Clive Donner, 1968, entire album: The Spencer Davis Group, Traffic,  Andy Ellison (alternate versions instead of OST of  four Spencer Davis Group tracks: Taking Out Time, Picture Of Her,  Just Like Me, Possession) **
AND ALSO: THE UNITED STATES OF AMERICA, 1967: three alternate versions that did not make the LP: The American Metaphysical Circus, Heresy aka Coming Down, Mouse aka The Garden of Earthtly Delights  + DAVID HEMMINGS HAPPENS, 1967 **
WORD & POETRY: No pasarán * The Fugs & Alan Ginsberg: I Saw The Best Minds Of My Generation * Weathermen Announce Offensive *  Delphine Lecompte : Ik vergeet soms (exclusieve Radio 68-voorleessessie)
HIGHLIGHT ** IN DE KIJKER
THE BEE GEES' 1ST
" (…) The Bee Gees were one of the biggest bands in pop history thanks to their many disco singles in the seventies; albums like Saturday Night Fever's soundtrack are filled with cheesy, yet ultra catchy classics, but that success  overshadows their earlier work  of the sixties and  many people will laugh when you tell them that they used to be as important in the psychedelic pop scene as bands like The Zombies or The Beach Boys.
"1st" was the first album by the band released worldwide and even if it has some flaws is still an essential record for every psych pop fan.
(…)The band's international debut isn't a perfect album; still, the instrumentation is superb and  extremely influenced by bands like The Beach Boys (Pet Sounds)  with many baroque accompaniments and  lyrics that aren't  of this world  – even if a couple of songs that show some incredible song-writing (…).  Source:  JP Patino Izquierdo  http://www.sputnikmusic.com/review/68562/Bee-Gees-Bee-Gees-1st/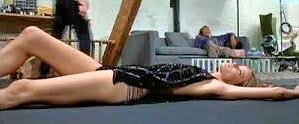 BLOW-UP
"Made in Great Britain in 1966, the flat-out great Blow-Up (in the U.K., Blow-Up) was Michaelangelo Antionioni's  first English-language effort. "Inspired" by Argentinean writer Julio Cortázar's 1959 short story Las babas del diablo (literally, "The Devil's Drool"), Blow-Up was nominated for two Academy Awards – in addition to winning the Palme d'Or. (…). Blow-Up, for its part, is not only a great work of art but a great work of philosophy as well, one as impressive as Antonioni's Italian masterpiece, La Notte (1961). Also of interest, Blow-Up caused a bit of a stir upon its release for its depiction of female nudity, casual sex, and drug use. Of course, forty years later this all seems a bit silly, considering how tame the scenes look to the modern viewer".  (Quoted from: http://www.altfg.com/film/blowup-michelangelo-antonioni/)
"Everyone who has seen "Blow-Up" will know that it's The Yardbirds, in a recording made with the rare Jeff Beck and Jimmy Page line-up, who provide the film with its exciting live rock group action cameo, and they are seen, and here heard, blazing through an interpretation of the old Tiny Bradshaw via Johnny Burnette Rock 'N' Roll Trio chestnut 'Train Kept-A-Rollin' – here redesigned as the sharper-titled 'Stroll On' – yet that's only a smidgeon of what's on offer.
This recently-issued reassessment of the soundtrack via the Music on Vinyl outlet presents everything in a vibrant, altogether more alive way for the up to date listener to get their head into. A few of the instrumental pieces – almost all created by the great Herbie Hancock number among the set's most colourful creations, including the highly effective 'Bring Down The Birds'.
Most people who are even just a little bit bothered about those types of fascinating behind-the-scenes insights will know nowadays – well at least since the initial vinyl reissue way back in the late 80s / early 90s – that one of director Michelangelo Antonioni's first choice London groups for the onstage club guitar smasherama scenario was to have been the never less than intriguing, always effortlessly endearing Tomorrow, the British psychedelic pop legends who would later go on to give us such mercurial-sounding underground pop gems as 'My White Bicycle' and 'Revolution'. Here, they can be heard as they transit forward from their more mod-inclined previous incarnation when they operated as the In Crowd, and now giving out with the softly attacking charm of 'Am I Glad To See You'." (Quoted from: http://www.psychedelicbabymag.com/2014/08/original-soundtrack-blow-up-1966-review.html)
DISCLAIMER:  https://www.radio68.be/disclaimer/