Art Rock Show – Black Rain (Week 24)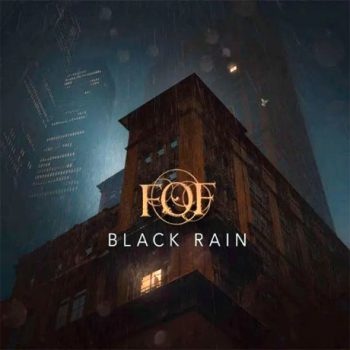 Onder de naam Fish On Friday, brachten Frank van Bogaert en William Beckers, tien jaar geleden brachten het heerlijke debuut Shoot The Moon. Maarten Goossensen van Prog Wereld: "Hun pakkende symfonische pop wist mij direct in te pakken. Nu is daar het vijfde album en is de band al lange tijd uitgebreid met Nick Beggs, Marty Townsend en Marcus Vermaere. William Beckers, die op "Quiet Life" nog maar kleine inbreng had, maakt geen deel meer uit van het gezelschap.
In tien jaar is er veel gelijk gebleven. De basis is nog altijd sterke popsongs overgoten met een symfonisch sausje. De sfeer is ruimtelijk, warm en bij vlagen wat dromerig van aard. De productie is zoals altijd 'spot on' en het artwork bijzonder stijlvol. (…)
Het heeft geleid tot een iets meer avontuurlijk geluid dat het geheel erg goed doet. Het bas- en Chapmanstick werk van Nick Beggs heeft een meer prominente plek in de mix gekregen en dat geeft de muziek wat meer groove.
Op dit album heeft de muziek een meer progressieve insteek gekregen. Neem Murderous Highland Highway dat mede door het slepende gitaarwerk van Marty Townsend en stuwend basspel van Nick Beggs geweldig uit de verf komt. Het titelnummer is zo'n typische Fish On Friday song met sterke zanglijnen, twee dames op achtergrondzang en pakkend toetsenspel.
(…) Het is altijd lastig om albums met elkaar te vergelijken, maar in mijn ogen is "Black Rain" hun beste album tot nu toe. Dat zit hem dus in het meer progressieve geluid. Dat smaakt naar meer. En geef Lula Beggs een vaste rol in de band. Op de naar de volgende tien jaar FOF!"
Naast Fish On Friday met Black Rain hebben we deze week: The Mute Gods (Tardigrades Will Inherit the Earth), Seven Steps to the Green Door (Step in 2 My World), Leap Day (From the Days of Deucalion – Chapter 1), David Minasian (Random Acts of Beauty) & Introitus (Elements).
Thursday/Donderdag 12.00 – 24.00
Friday/Vrijdag 12.00 – 24.00
Saturday/Zaterdag 12.00 – 18.00