Art Rock Show – Cavalcade (Week 41)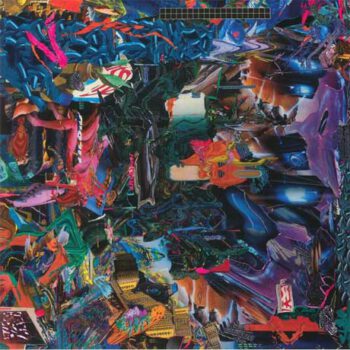 De leden van black midi waren nog geen 20 toen ze in 2019 het debuutalbum Schlagenheim uitbrachten. En dat wil wat zeggen, want ze weten de meest wonderbaarlijke geluiden uit hun instrumenten te toveren en aan elkaar te verbinden.
Lodewijk Hoebens van Never Mind The Hype: "Welcome to Hell!, roepen de drie Londense twintigers van Black Midi in koor tijdens de Cavalcade Listening Party Extravaganza. Het cliché dat een tweede plaat altijd moeilijk lijkt voor een act, kan men hier gelijk uit het raam gooien. Black Midi maakt sinds ze begonnen in 2017 allesbehalve makkelijke muziek. Het drietal weet wat ze kunnen en denkt absoluut niet in hokjes. (…)
Er zijn geen labels te plakken op deze jonge honden. Avant-garde in een notendop. Het Franse woord komt voort uit soldaten die ter verkenning vooruit worden gestuurd. Cavalcade wijst dan weer op een parade met paarden of zelfs tanks. Lekker luid. Het magnum opus van de plaat, Ascending Forth, brengt de ruim 40 minuten dan ook treffend tot een bombastisch einde. Maar hoe begint het avontuur? Dat is weggelegd voor John L, welgekozen als debuutsingle en eveneens het eerste nummer wat Black Midi opnam voor het album. Uitermate representatief voor de band vol toetsen, blazers en strijkers. Stel je voor wat het zou zijn wanneer een Joe Talbot van Idles en Frank Zappa elkaar ooit ontmoet hadden tijdens een jamsessie. (…)
Gelukkig neemt Black Midi ons mee door een kleine 70 jaar rock 'n roll met al zijn fascinerende facetten. Heeft het dan een eigen smoel? Ja en nee, want dit is het resultaat van vier boeiende muzikanten die weten wat ze kunnen en toch de oneindige grenzen opzoeken van de muziek. Muziek die elk mens, maakt niet uit (in) welk genre, met elkaar verbindt. "To try, and to risk, and to fail."
Naast Black Midi met Cavalcade, Don Caballero (American Don), Deerhoof & Wadada Leo Smith (To Be Surrounded by Beautiful, Curious, Breathing, Laughing Flesh Is Enough), Tera Melos (Trash Generator), Polvo (Exploded Drawing) & Talking Heads (The Name of This Band Is Talking Heads).
Thursday/Donderdag 12.00 – 24.00
Friday/Vrijdag 12.00 – 24.00
Saturday/Zaterdag 12.00 – 24.00