Art Rock Show – Dark Horizons (Week 30)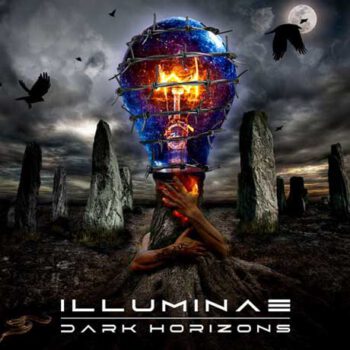 De in Londen gevestigde band Illuminae werd opgericht door twee bekende artiesten in de Britse progressieve rock scene – Ian Jones (Karnataka, Chasing The Monsoon) en Agnieszka Swita (Caamora). Er spelen ook enkele speciale gastmuzikanten mee zoals Steve Hackett, John Helliwell, Troy Donockley, Craug Blundell, etc.
Maarten Goossensen van Prog Wereld: "De muziek van Illuminae blijft dichtbij het geluid van Karnataka, maar is bombastischer dan op zijn Chasing The Monsoon project. Het duo heeft zich omringt met een aantal klasse muzikanten. (…)
Het album bevat een aantal geweldige songs. Zo is het beste nummer van het album meteen als eerste geplaatst. The Lighthouse heeft een prima opbouw waarbij de spanning mooi gedoseerd wordt. Agnieszka Swita heeft een overtuigend stemgeluid en als haar lichte accent je niet stoort, dan zal ze je op dit album niet teleurstellen. De vele dubbelingen van haar stem hadden echter wel wat beter (lees minder) gedoseerd kunnen worden. Het klinkt soms overgeproduceerd. Er wordt mooi naar een climax toegewerkt die uitstekende ingevuld wordt door grootmeester Steve Hackett. Kippenvel. Elke keer dat ik het hoor. (…)
Op Sign Of Infinity hoor je het saxofoonspel van John Helliwell (Supertramp) en dat geeft het nummer echt iets extra's. Het frivole pianospel van Gonzalo Carrera (Karnataka) heeft eveneens een mooie hoofdrol. Ook de afsluiter Dark Horizons, met ruim elf minuten het langste nummer, kan mij wel bekoren. Het heeft mooie zanglijnen en de rol van Luke Machin is hier prettig genoeg wat groter."
Naast Illuminae met Dark Horizons, This Winter Machine (The Man Who Never Was), Riversea (The Tide), Nine Stones Close (Leaves), Cosmograf (The Man Left in Space) & Io Earth (New World).
Thursday/Donderdag 12.00 – 24.00
Friday/Vrijdag 12.00 – 24.00
Saturday/Zaterdag 12.00 – 24.00