Art Rock Show – Ghost Tapes #10 (Week 19)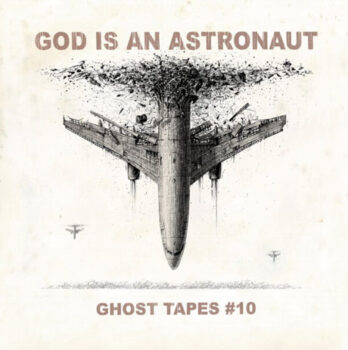 De Ierse band God Is An Astronaut serveert al bijna twintig jaar heerlijke porties post-rock van een buitengewone kwaliteit. De verwachtingen voor het nieuwe album "Ghost Tapes #10" waren begrijpelijkerwijze dan ook hoog gespannen.
Jamie Giberti van Rock Sins: "There's so many superb individual moments throughout the album its hard to pick out all of them, but the closing 90 seconds or so of In Flux is a dream for anyone who was a huge Red Sparowes fan (like this reviewer). In an album of incredibly high quality throughout, Fade is perhaps the pick of the bunch. Much more fast paced than the rest of this album, God Is An Astronaut show on Fade that they're equally adept at sprinting through songs with Lloyd Hanney's drumming again taking centre stage. The haunting, spirit-like vocals on Barren Trees (the only use of vocals on this album) feel like they will swallow the listener whole, while the rest of the track again creates a soundscape that is completely encapsulating. The album closer, Luminous Waves, is wonderfully peaceful, and provides a nice counterpoint to some of what has come before. In any event, the listener is left wanting more.
The best post-rock albums often share the quality of making minutes feel like seconds, and Ghost Tapes #10 is no exception here. God Is An Astronaut have created a truly fantastic album that rivals any of their previous album. Not too many bands can say that almost two decades in, but with God Is An Astronaut, it doesn't feel like they've hit their limit yet. An absolute must-listen for anyone who enjoys instrumental rock / post-rock, and an album that will surely feature on many "best of" lists at the end of 2021."
Naast God Is an Astronaut met Ghost Tapes #10, We Lost the Sea (Departure Songs), Caspian (Dust and Disquiet), Sleepmakeswaves (Love of Cartography), Tides From Nebula (From Voodoo to Zen), Audrey Fall (Mitau) & Those Who Ride With Giants (Numinous).
Thursday/Donderdag 12.00 – 24.00
Friday/Vrijdag 12.00 – 24.00
Saturday/Zaterdag 12.00 – 24.00