Art Rock Show – Grey White Silver Yellow and Gold (Week 21)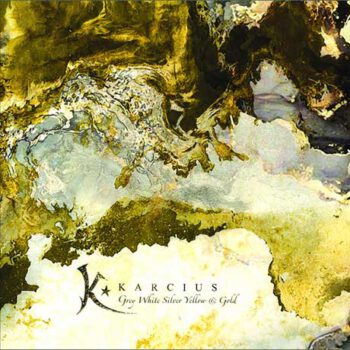 Karcius is een Canadese groep die gevormd werd rond de eeuwwisseling en vernieuwing brengt in het genre van de progressieve rock.
Prog Archives review: "Fruity prog rock that I name, surprising and diversified music with a measured dose of improvisation; instrumental at the start, evolution with the heavy prog vocal contribution of Sylvain from 2012 for a singular melting pot; a heavy, ponderous, powerful sound, almost grunge at times, delicate at other times; which sends me back to naming also the Riverside and the last Leprous albums. In short, Karcius is a singular and inventive group concept, intimate, nervous and bewildering, so let's slip into their latest baby. (…)
Karcius has just released the album of the month, in this rather sad beginning of the year; a captivating sound, seeking its imprint on old basic sounds, rehashing certain others to release raw current notes, prog metal in tune with the times, standing out from its jazzy spirit to give the current prog between alternative and crossover; Karcius invites us to reflect on the direction of his music in today's world and demonstrates that prog is dead; that it has transformed, mutated into this unique sound that Porcupine Tree opened up in its time, a clean sound with reminiscences; the loop is closed, rock has indeed given birth to this timeless progressive movement where rhythm, atmospheric images, fruity colors, emotions and riffs plunge into their unique, disorienting sound, with great art.
Not by chance that the jack of all trades Tony Lingren is behind the controls. Karcius talks about the different colors of man's addiction and insatiability with money, gold, drugs, strong emotions; a cult of personality on human self-destruction, the sequel to the delirium of 'The Fold' for a simply magnificent album, you have been warned."
Naast Karcius met Grey White Silver Yellow and Gold, Vienna Circle (Secrets of the Rising Sun), Frequency Drift (Ghosts), Spaced Out (Evolution), Roine Stolt (Wall Street Voodoo) & Citriniti (Citriniti)."
Thursday/Donderdag 12.00 – 24.00
Friday/Vrijdag 12.00 – 24.00
Saturday/Zaterdag 12.00 – 24.00