Art Rock Show – Harvest (Week 23)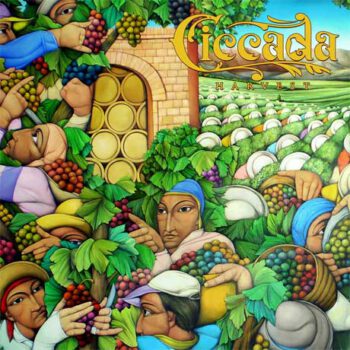 Onlangs bracht de Griekse rockband Ciccada z'n derde album uit. De plaat zit boordevol verwijzingen naar progressieve rock acts van de jaren 1970 als Camel, Jethro Tull, Gryphon, Gentle Giant, Strawbs, Renaissance, etc.
The Spirit of Progressive Rock review: "The overall sound sees the band balancing acoustic instruments with electric ones, allowing the music a seeming simplicity whilst actually being somewhat more profound. (…)
A lot of the colour on the album though comes from the clever use of the instrumentation. Although the standard of musicianship is high, it is not on display to be dazzling but effective. The skills serve a purpose. It is the guitar work of Yorgos Mouhos and the interplay with the keyboards and wind instruments from Nicolas Nikolopoulos that initially catches the ear, with the other musicians giving the music emphasis when required. The vocals of Dimi Spela and Evangelia Kozoni work well together and serve the music well. Their vocal stylings are very reminiscent of Annie Haslam and Sonja Kristina, along with Barbara Gaskin from progressive-folk band Spirogyra. But it is the interplay of all these talents that makes the album what it is.
There are six songs on the album and the song writing skills are high. There are long musical passages and it remains very melodic throughout. It may be a backward- looking album, but its energies remain positive and cheerful. This is not a soppy pining for yesteryear, but a stroll down memory lane to a favourite recollection with a smile on a summer's evening. This is a vivid but somewhat relaxed listen from a very good multifaceted collective."
Naast Ciccada met Harvest, District 97 (In Vaults), Il Tempio Delle Clessidre (Il-Ludere), Hostsonaten (The Rime of the Ancient Mariner, Chapter One), Comedy Of Errors (Fanfare & Fantasy) & Magic Pie (Motions of Desire)."
Thursday/Donderdag 12.00 – 24.00
Friday/Vrijdag 12.00 – 24.00
Saturday/Zaterdag 12.00 – 24.00