Art Rock Show – Land of Green and Gold (Week 7)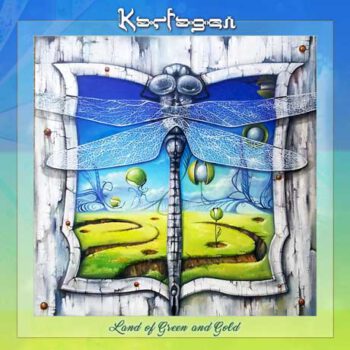 Karfagen is het geesteskind van de multi-getalenteerde Oekraïense muzikant en componist Antony Kalugin, die progressieve rock in symfonische stijl brengt. Van 2006 tot vandaag heeft hij 13 albums op z'n naam staan.
Hans Ravensbergen van Prog Wereld: "In die ruim vijftien jaar is de muzikale stijl van Karfagen niet bijster veel veranderd. Deze band, met een vaak wisselende bezetting, geeft de Oekraïner ruimte om zijn liefde voor klassieke muziek en jazz te etaleren. Dat het geluid en de composities dat wel zijn is zo helder als glas. Want de muziek heeft wel een ontwikkeling doorgemaakt, met als voorlopig hoogtepunt dit nieuwe schijfje, dat de lijn van "The Principles And Theories Of Spektra" doortrekt.
De kern van "Land Of Green And Gold" is opgebouwd uit twee delen, zogenaamde chapters, die elk bestaan uit meerdere in elkaar overvloeiende stukken. Ze duren elk ruim 25 minuten. Als extraatje is een derde chapter toegevoegd.
Kingfisher And Dragon Flies (Part 3) vormt de akoestische overture van chapter 1: Land Of Green. Part 1 vinden we terug op het tweede Karfagen-album "The Space Between Us" uit 2007 en part 2 staat op "Solitary Sandpiper Journey" uit 2010. Dat Karfagen muzikaal forse stappen heeft gezet blijkt op Land Of Green (Part 1). Een new-age achtige intro gaat over in een zalige partij melodieus gitaarwerk van Max Velychko. Zijn stijl houdt het midden tussen die van Andy Latimer en Roine Stolt. De afwisseling met breed uitgesponnen toetsenwerk van de meester zelf laat horen dat dit schijfje er vooral een is voor de liefhebbers van toetsen en gitaar. Sfeer- en tempowisselingen zijn goed gedoseerd en de inbreng van saxofoon door Yan Vedaman, een nieuwe naam in de Karfagen-familie, is smaakvol.  (…)
Evenals voorgaande jaren laat Antony Kalugin al weer vroeg in een kalenderjaar van zich horen. Ik houd er ernstig rekening mee dat het daar niet bij zal blijven. Wanneer dat net zulke zalige albums zijn als deze heb ik daar geen enkel bezwaar tegen."
Naast Karfagen met Land of Green and Gold, Blind Ego (Preaching to the Choir), Mystery (Lies and Butterflies), Moon Safari (The Gettysburg Address), Neal Morse (?) & The Pineapple Thief (What We Have Sown).
Thursday/Donderdag 12.00 – 24.00
Friday/Vrijdag 12.00 – 24.00
Saturday/Zaterdag 12.00 – 24.00