Art Rock Show – Of Brine and Angel's Beaks (Week 44)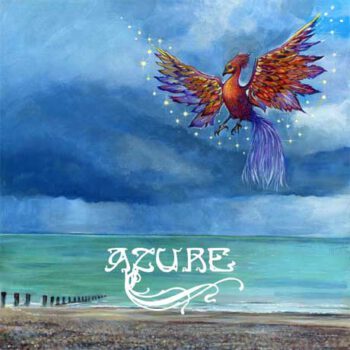 Azure is een progressieve rockband uit Brighton, UK. Het project werd gevormd door zanger Christopher Sampson in 2015 tijdens zijn muziekstudie in die stad. Hij raakte ook goed bevriend met leadgitarist Galen Staple. De vriendschap en samenwerking leidde tot het album 'Wish For Spring' in 2017.
Hallum van The Progressive Subway: "The album may be an hour long but the pacing is executed well enough that there are no extended lulls. Although, if I could sub "Cup of Poison" out for the Mistress single, I would. The former seems almost too straightforward amongst all the other extraordinary tracks and the latter is simply too good not to include. Aside from this, each track is highly distinguishable and there are plenty of stand out moments across the album that make repeated listening addictive. The refrain in "Lustre: Siphon of Umbra", for example, is a real earworm. Tones and timbres of the tracks vary greatly too. "The Jester Who Cheated Death" is as catchy as it is proggy, and "The Jellyfish" sounds almost as indie-pop as The 1975 if they had slick guitar fills and solos. Yet, the record becomes darker and heavier in places, notably in the detuned Dream Theater mid-section of "Mercy" and palm-muted chugs throughout "Outrun God" (as well as a couple of cheeky 'amen breaks' of all things). Top marks for mixing and mastering also go to Gareth Mason and Jonas Johansson of Slice the Cake/The Bakery. The production is full and impactful without anyone getting drowned out despite the multiple layers of instrumentation and variety in dynamics.
Although I couldn't count on two hands the number of subtle influences I hear in this record, Azure have an extremely distinguished sound that has been refined tenfold since their first release. This is a worthy breath of fresh life and modernity to a genre that rooted itself over five decades ago."
Naast Azure met Of Brine and Angel's Beaks, Chain Reaktor (Homesick), Acolyte (Entropy), Synaesthesia (Synaesthesia), Subterranean Masquerade (Suspended Animation Dreams); The Stranger (Kaleidoscope) & Nine Skies (Sweetheart Grips).
Thursday/Donderdag 12.00 – 24.00
Friday/Vrijdag 12.00 – 24.00
Saturday/Zaterdag 12.00 – 24.00