Art Rock Show – One Man's Grief (Week 23)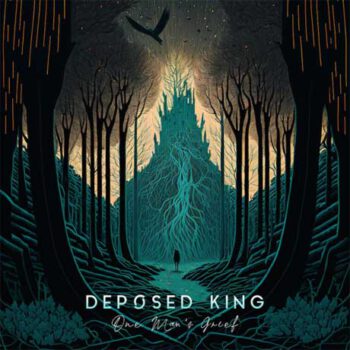 Daniel Kriffel en Dominique Király komen uit Boedapest en noemen de gebruikelijke invloeden als Steven Wilson, Mariusz Duda en Ólafur Arnalds. Je kunt vage hints van deze muzikanten horen in het geluid van Deposed King, maar het is zeker een geluid dat ze zelf hebben gesmeed. Hun gepolijste, low key muziek doet me denken aan veel van de progressieve rock en post-rock acts die recentelijk uit Oost-Europa en vooral Polen zijn gekomen.
Progradar review: "With intelligent and thought provoking music and a calming aura deep at its core, the album is nine tracks long and brief opener First Light sets the scene of things to come, thoughtful and wistful in tone and delivery, this delicate instrumental focuses your mind immediately. There's a segue into the chiming guitars of Caves, a piece of music that, while thoughtful in nature, has a more urgent and intense feel than the previous track. Another instrumental and one that shows the prowess of these excellent musicians. The ambient soundscape of Endless Hours also sees the first introduction of vocals to the album and what gorgeous vocals they are, haunting and emotive in equal measure. With elegant guitars and lush electronics, this song is as polished as they come. There's a definite feel of Mariusz Duda's recent work on his Lunatic Soul project to the intelligent Path of Forlorn, the staccato drumming and almost eastern sounding guitar note adding a stylish sheen to this captivating track, a definite highlight of what is proving to be an utterly compelling collection of songs. (…)
When music touches you on a personal level, it must be something quite special and 'One Man's Grief' does exactly that and more. Deposed King write songs and music that has meaning and purpose and it is music that will stay with me for a very long time."
Naast Deposed King met One Man's Grief, The Paradox Twin (Silence From Signals), Needlepoint (Walking up That Valley), Jonas Lindberg & the Other Side (Miles From Nowhere), Shamblemaths (Shamblemaths II) & Rikard Sjöblom's Gungfly (On Her Journey to the Sun).
Thursday/Donderdag 12.00 – 24.00
Friday/Vrijdag 12.00 – 24.00
Saturday/Zaterdag 12.00 – 24.00