Art Rock Show – Songs for Souls (Week 9)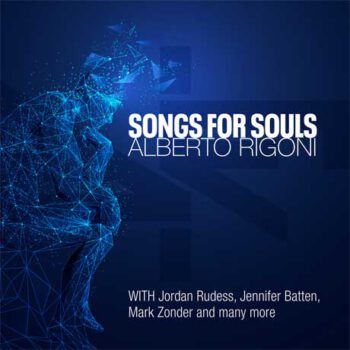 Alberto Rigoni (°1981) is een Italiaanse bassist en componist, internationaal bekend als solo-artiest en als lid van de metalband BAD As, The Italians, Natural Born Machines, Lady & THE BASS en TwinSpirit.
Prog Archives review: "A new album for Mr Alberto Rigoni, bassist extraordinaire from Italy, so time for high quality music! This new musical extravaganza is the most mature, complete, complex and elaborate album so far for this brilliant musician! Just look at the names of the special guest stars invited on the album and you realize this one is truly a magnum opus for it's author! (…)
This is the feeling that we have after we make an audition of this album! Maturity, sobriety, diversity, musical integrity and passion for this wonderful instrument called bass. The musicians invited are making great, remarcable performances, it's impressive to see the cohesion and consistency of the compositions.Catchy from the first to the last note, this album deserves many audition to fully understood in it's message and to understand the state of mind of Mr Rigoni, when he composed this true musical jewel! The diversity is impressive and each track has a very strong personality and individuality! Love it so much. Complimenti,maestro and endless inspiration in the future to spread to the world your immense talent and musical stills!5 stars without any hesitation for a work of art."
Naast Alberto Rigoni met Songs for Souls, Not a Good Sign (Icebound), Perfect Beings (Vier), Burnt Belief (Mutual Isolation), 3RDegree (The Long Division) & Tiles (Off the Floor 02).
Thursday/Donderdag 12.00 – 24.00
Friday/Vrijdag 12.00 – 24.00
Saturday/Zaterdag 12.00 – 24.00