Art Rock Show – STUMMFILM (Week 2)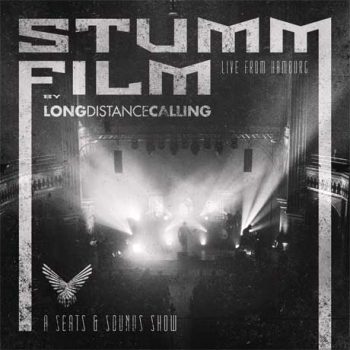 Deze week stellen we de Duitse post-rock band Long Distance Calling aan u voor. De band isafkomstig uit Münster, Duitsland en werd in 2006 opgericht. Het merendeel van hun nummers zijn uitgebreide instrumentals.
Maurice van der Zalm van Rockportaal.nl: "Stummfilm is een registratie van het concert in de Kulturkirche Altona in Hamburg. Een prachtig decor dat in de filmregistratie heel mooi wordt uitgelicht en een mooi samenspel vormt met de visuele aspecten achter op het podium.
Temidden van dit alles een band die uiterst geconcentreerd, maar eveneens sympathiek en ontspannen de muziek zijn werk laat doen. Dat betekent dat je als luisteraar/kijker meegenomen wordt in een je-alles-om-je-heen-vergetend muziekconcert dat dan weer progressief krachtig, dan weer gevoelig of hypnotiserend zijn werk doet. Bijzonder is dat Long Distance Calling zich ook hier niet aan bepaalde muziekgrenzen houdt. Een mooi voorbeeld zijn hierbij de elementen van Ennio Morricone die in Like A River als vanzelfsprekend in het totale geluid zijn opgenomen.
De setlist bestaat uit composities van het album Long Distance Calling (2011), Satellite Bay (2007) en Trips (2016). Maar het album Boundless uit 2018 is zeker met vier composities zeker goed vertegenwoordigd. (…)
Uiteindelijk is Stummfilm een mooi document van deze uitstekende band. Het album zelf is zeker de moeite waard van het luisteren cq. ondergaan. In ruim twee uur word je meegezogen in de slipstream van dit instrumentele kwartet."
Naast Long Distance Calling met STUMMFILM hebben we deze week: Tides From Nebula (Eternal Movement), If These Trees Could Talk (The Bones of a Dying World), This Will Destroy You (Live In Reykjavik Iceland) & Daturah (Reverie).
Thursday/Donderdag 12.00 – 24.00
Friday/Vrijdag 12.00 – 24.00
Saturday/Zaterdag 12.00 – 18.00