Art Rock Show – The Murder Wall (Week 20)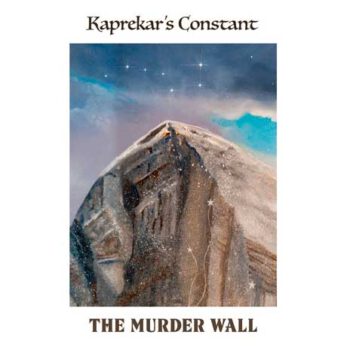 Kaprekar's Constant is het geesteskind van jeugdvrienden, songwriters en multi-instrumentalisten Al Nicholson en Nick Jefferson. De band bestaat ook nog uit: Van Der Graaf saxofonist David Jackson, toetsenman Mike Westergaard, zangeres Dorie Jackson, Bill Jefferson & Caravan drummer Mark Walker.
Richard Swan van The Progressive Aspect: "This has to be my most hotly anticipated album for 2022, following Kaprekar's Constant's exceptional musical work of art Depth of Field in 2019. Already fêted as a band that composes "epoch-making masterpiece(s) … that could have been an offspring of Genesis in 1976", Kaprekar's Constant have set themselves an exceptionally high bar, particularly having been previously nominated as Best Newcomer in the illustrious Prog Magazine. Have they achieved it again with this year's The Murder Wall? They sure have!
This is as close as one gets to a symphonic progressive concept album without it being one; that's a great thing because, let's face it, concept albums are a bit '70s, aren't they? What we have here is an underlying theme of that magnificent mountain, the Eiger. Co-writer and bass player Nick Jefferson explains: "We'd spoken about writing and recording an album inspired by the landscape and the spirit of adventure and heroism of some of the mountaineers who have attempted to climb the North Face." (…)
What are my stand-out tracks? A difficult one, because this is another supremely enjoyable album. It really warrants a deliberate listen from start to finish, rather than isolating individual tracks, but I have always had a passionate interest in the Kurz / Hinsterstoisser story from 1936, and so I'm going with that 16-minute suite that starts with Failure Takes Care of its Own. But then, the album closure with Mountaineers / Hall of Mirrors is just about the perfect story ending too."
Naast Kaprekar's Constant met The Murder Wall, The Far Meadow (Foreign Land), Gandalf's Fist (A Day In The Life Of A Universal Wanderer), Freedom to Glide (Seed), Leap Day (Awaking the Muse) & Sanguine Hum (Now We Have Power)."
Thursday/Donderdag 12.00 – 24.00
Friday/Vrijdag 12.00 – 24.00
Saturday/Zaterdag 12.00 – 24.00