Art Rock Show – Two Piece Puzzle (Week 13)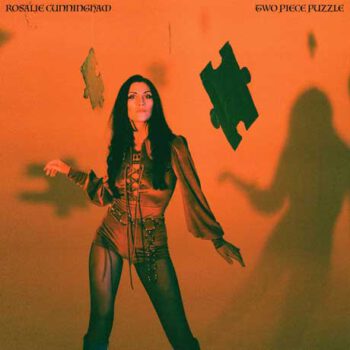 Nadat Rosalie Cunningham zich met haar debuutplaat in 2019 op fantastische wijze als soloartiest heeft gevestigd, richt ze zich met Two Piece Puzzle op een nog breder terrein. Haar nieuwe plaat Two Piece Puzzle, voegt lagen van psych-pop, folk, jazz, en metal toe als geen ander!
Graham Thomas van The Progressive Aspect (TPA): "The psychedelic leanings of the debut are continued and extended here, and as usual, Rosalie's compositions twist and turn in unexpected directions several times in each song. She has an ear for detail, and was probably tempted to keep layering as ideas arose, but to her credit, she has allowed the music room to breathe, despite some complex arrangements.
So Two Piece Puzzle is definitely a step forward from the debut, and is easily her best work to date, and given the quality of previous songs, that is saying something. The obvious point of reference is The Beatles, and their influence abounds, and many other influences pop up along the way. There's a nod to Bowie in some of the quirky arrangements, a tip of the hat to Kate Bush, and moments which really remind me of the late great Randy California. To take these flavours and create a new and exciting recipe of her own is a tribute to her undoubted talent, and she is fast developing a very distinctive sound. (…)
This album is a total triumph. It sounds at once completely familiar and comfortable, yet confounds the listener's expectations at every turn, often several times during the course of a single song. There's such a wealth of richly detailed embellishment, yet enough space to move and not feel smothered in complexity. Striking that balance can't have been easy, but Rosalie and Rosco have created something to be proud of here, and whilst this is a career high, I'm sure there's plenty more where this came from. She's an important artist, and she's on tour in the UK very soon. Ignore her at your peril."
Naast Rosalie Cunningham met Two Piece Puzzle, Black Mountain (IV), Blood Ceremony (Lord of Misrule), Siena Root (A Dream of Lasting Peace), Sleepy Sun (Fever), Motorpsycho (The Tower) & Purson (Desire's Magic Theatre).
Thursday/Donderdag 12.00 – 24.00
Friday/Vrijdag 12.00 – 24.00
Saturday/Zaterdag 12.00 – 24.00