Langspeeltijd *** 60s Albums Only *** A Happy 1969 with Creedence Clearwater Revival [Bayou Country, entire album], Aretha Franklin [Soul], Cream [Goodbye, pts. 1 & 2],Ten Years After [Stonehenged] *** Monday 30 May 2022 *** [Ed's Show 2022-20]
NEW SHOW: A Happy 1969 with Creedence Clearwater Revival [Bayou Country, entire album], Aretha Franklin [Soul], Cream [Goodbye, pts. 1 & 2],Ten Years After [Stonehenged]  *** REPEATED SHOW *** Steppenwolf [Monster], Steve Miller Band [Children Of the Future], Blues Magoos [Electric Comic Book], Barry Goldberg [Two Jews Blues]  ***  Monday 30 May  2022, 12:00 noon till  04:00 in the morning *** Time Zone CET Brussels, Paris, Berlin *** [2022-20 = 2019-01] *** no. 222
RADIO 68: ALL THE REVOLUTIONARY SOUNDS AND VOICES THAT SHAPED THE SIXTIES 
---
LIKE & JOIN RADIO 68
Like our Page https://www.facebook.com/radio68Belgium
Join our Group https://www.facebook.com/groups/613281298696645
Showtime CETime Brussels 
12:00  CCR, Cream, Ten Years After 

14:00

Steppenwolf, Blues Magoos, Steve Miller

16:00

CCR, Cream, Ten Years After 

18.00

Steppenwolf, Blues Magoos, Steve Miller

20.00 CCR, Cream, Ten Years After 

22:00

Steppenwolf, Blues Magoos, Steve Miller

24:00

CCR, Cream, Ten Years After 

02:00

Steppenwolf, Blues Magoos, Steve Miller

04:00 Show Ends Here    
01 NEW SHOW: A HAPPY 1969 WITH…
CREEDENCE CLEARWATER REVIVAL  Bayou Country, part one (LP, 1969).
ARETHA FRANKLIN Soul '69 (LP, 1969, side A).
CREEDENCE CLEARWATER REVIVAL  Bayou Country, part 2  (LP, 1969).
TEN YEARS AFTER Stonedhenged (LP, 1969, side 1).
CREAM Goodbye (LP, 1969, pt. 1).
CREAM Goodbye (LP, 1969, pt. 2).
WORD & FREE SPEECH & POETRY:  Jenny Lewis & Adnan Al-Sayegh  (Anthem For Gilgamesh) + Barry McGuire (Masters Of War) + 7:84 Theatre Co. (Lay-Off).
02 REPEATED SHOW: STEPPENWOLF, BLUES MAGOOS, STEVE MILLER
LOVE, PEACE & UNDERSTANDING Sonny Bono:  Laugh At Me
HOMAGE TO CATALUNYA Maria del Mar Bonet: Qué volen aquesta gent? Live "Llibertat Jordis" 21 d'Octubre 2017.
STEPPENWOLF: Monster, 1969: the entire album.
THE STEVE MILLER BAND: Children Of The Future, 1968, entire A-side.
THE BLUES MAGOOS: Electric Comic Book, 1967, entire A-side.
BARRY GOLDBERG with MIKE BLOOMFIELD and  HARVEY MANDEL Two Jews Blues, 1969 : choice tracks.
THE STEVE MILLER BAND: Children Of The Future, 1968, entire B-side.
AND ALSO A Passing Fancy: People in Me, LP, 1968.
WORD & FREE SPEECH: Mexico 2 October 1968: The Massacre + Mexico 1968: Black Power At the Olympics.
ACHTERGROND ** BACKGROUND 
CREEDENCE:  BAYOU COUNTRY
"The group's sound is very reminiscent of that of the early Stones — hard rock, based in blues. John Fogerty carries the group with his good lead guitar, in addition to his good vocal and harp work. He also wrote all of Creedence's original songs, and arranged and produced the album. He probably swept out the studio when the recording was finished, too. Despite John's dominance, the group has a solid overall sound. Stu Cook on bass, brother Tom Fogerty on rhythm guitar, and Doug Clifford on drums are all good musicians; they lay down a heavy backing for Fogerty, and the result is a very tight sound. (…) Overall, the material in Bayou Country is not always strong, but Creedence Clearwater Revival plays with enough gusto to overcome this problem. With the stronger material, they are excellent. It seems to me though, that CCR has just about exhausted its supply of blues-rock numbers. They have produced two fine albums; so far, so good. But I think (and hope) that we will see new directions on their forthcoming albums". Quoted From / All Rights Reserved: https://www.rollingstone.com/music/music-album-reviews/bayou-country-86757/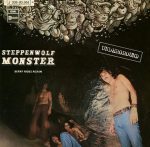 STEPPENWOLF Great Protest Rock
"Steppenwolf may be best remembered for its pair of ubiquitous hits, but the band had far more to say than that. John Kay and his bandmates too often gave in to their polemics, trapping some of their lyrics in the late '60s and early '70s; while nuance was never their strong point, they still knew how to make an artful point. On 1970's Monster, an overlooked masterpiece, they managed to create a thematically cohesive album that managed to remain concise even while containing the group's most epic moment.
That epic piece, "Monster/Suicide/America" opens the album with a nine-minute history of the American debacle. Steppenwolf eviscerates the US, criticizing easy targets like slavery, invasive policing, and unjust war, but the group complicates the matter. Kay reifies America and the ideals of the country, establishing her (yes, it's a "she") as an entity pre-existing and continuing outside of the thoughts and actions of the populous, capable of rescuing her "sons and daughters." At the same time, they create a monster that's risen up from the actions of the citizenry, but not only from government atrocities, but also from ordinary people who "got fat and grew lazy." Alternating between second and third person point-of-view, Kay targets everyone, in the process discovering that between the evils of the monster and the good of the mythic America lies the suicide—the very drive for freedom is a death drive based on narcissism and corruption".
Quoted From : All Rights Reserved: http://rockasteria.blogspot.com/2013/07/steppenwolf-monster-1969-us-great.html
DISCLAIMER:  https://www.radio68.be/disclaimer/