Long-playtime *** 60s Albums Only *** Steppenwolf [Monster], Steve Miller Band [Children Of the Future], Blues Magoos [Electric Comic Book], Barry Goldberg [Two Jews Blues] *** Monday 23 May 2022 *** [Ed's Show, 2022-19]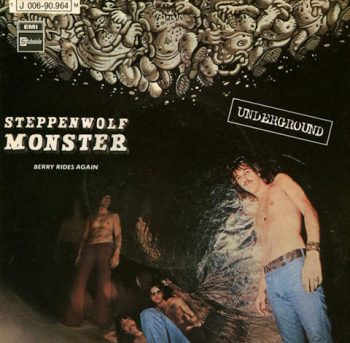 NEW SHOW: Steppenwolf [Monster], Steve Miller Band [Children Of the Future], Blues Magoos [Electric Comic Book], Barry Goldberg [Two Jews Blues]  *** REPEATED SHOW *** Pop Singers A Go-Go: Dave Berry [One Dozen Berrys], Crispian St. Peters [Follow Me], David Garrick [A Boy Called David], Paul Jones [Come Into My Music Box], Gene Pitney, Cliff [Finders, Keepers]  ***  Monday 23 May  2022, 12:00 noon till  04:00 in the morning *** Time Zone CET Brussels, Paris, Berlin *** [2022-19 = 2018-43] *** no. 221
RADIO 68: ALL THE REVOLUTIONARY SOUNDS AND VOICES THAT SHAPED THE SIXTIES 
---
LIKE & JOIN RADIO 68
Like our Page https://www.facebook.com/radio68Belgium
Join our Group https://www.facebook.com/groups/613281298696645
Showtime CETime Brussels 
12:00 Steppenwolf, Blues Magoos, Steve Miller

14:00

Pop Singers: Dave Berry, Crispian St. Peters 

16:00

Steppenwolf, Blues Magoos, Steve Miller

18.00

Pop Singers: Dave Berry, Crispian St. Peters 

20.00 Steppenwolf, Blues Magoos, Steve Miller

22:00 P

op Singers: Dave Berry, Crispian St. Peters 

24:00

Steppenwolf, Blues Magoos, Steve Miller

02:00

Pop Singers: Dave Berry, Crispian St. Peters 

04:00 Show Ends Here    
01 NEW SHOW: STEPPENWOLF, BLUES MAGOOS, STEVE MILLER
LOVE, PEACE & UNDERSTANDING Sonny Bono:  Laugh At Me
HOMAGE TO CATALUNYA Maria del Mar Bonet: Qué volen aquesta gent? Live "Llibertat Jordis" 21 d'Octubre 2017.
STEPPENWOLF: Monster, 1969: the entire album.
THE STEVE MILLER BAND: Children Of The Future, 1968, entire A-side.
THE BLUES MAGOOS: Electric Comic Book, 1967, entire A-side.
BARRY GOLDBERG with MIKE BLOOMFIELD and  HARVEY MANDEL Two Jews Blues, 1969 : choice tracks.
THE STEVE MILLER BAND: Children Of The Future, 1968, entire B-side.
AND ALSO A Passing Fancy: People in Me, LP, 1968.
WORD & FREE SPEECH: Mexico 2 October 1968: The Massacre + Mexico 1968: Black Power At the Olympics.
02 REPEATED SHOW: POP SINGERS
LOVE, PEACE & UNDERSTANDING Donovan: Wear Your Love Like Heaven.
POP SINGERS
DAVE BERRY: One Dozen Berrys, LP, 1966, entire A-side.
CRISPAN ST. PETERS: Follow Me, LP, 1966, choice tracks + Simply, LP, choice tracks.
DAVE BERRY: One Dozen Berrys, LP, 1966, entire B-side.
DAVID GARRICK: A Boy Called David, LP, 1967: choice tracks.
PAUL JONES: Come Into My Music Box, LP: entire A-side.
GENE PITNEY: I'm Gonna Be Strong, LP, 1965 +  Looking Through The Eyes Of Love, LP, 1965: choice tracks.
CLIFF: Finders, Keepers, LP, 1966 + Don't Stop Me Now, LP, 1967 choice tracks.
WORD & FREE SPEECH:  Ho Chi Minh Dies, Zwartberg 1966, Muhammed Ali Against Draft, Charles Ducal.
ACHTERGROND ** BACKGROUND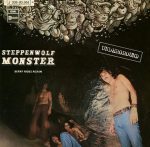 STEPPENWOLF Great Protest Rock
"Steppenwolf may be best remembered for its pair of ubiquitous hits, but the band had far more to say than that. John Kay and his bandmates too often gave in to their polemics, trapping some of their lyrics in the late '60s and early '70s; while nuance was never their strong point, they still knew how to make an artful point. On 1970's Monster, an overlooked masterpiece, they managed to create a thematically cohesive album that managed to remain concise even while containing the group's most epic moment.
That epic piece, "Monster/Suicide/America" opens the album with a nine-minute history of the American debacle. Steppenwolf eviscerates the US, criticizing easy targets like slavery, invasive policing, and unjust war, but the group complicates the matter. Kay reifies America and the ideals of the country, establishing her (yes, it's a "she") as an entity pre-existing and continuing outside of the thoughts and actions of the populous, capable of rescuing her "sons and daughters." At the same time, they create a monster that's risen up from the actions of the citizenry, but not only from government atrocities, but also from ordinary people who "got fat and grew lazy." Alternating between second and third person point-of-view, Kay targets everyone, in the process discovering that between the evils of the monster and the good of the mythic America lies the suicide—the very drive for freedom is a death drive based on narcissism and corruption".
Quoted From : All Rights Reserved: http://rockasteria.blogspot.com/2013/07/steppenwolf-monster-1969-us-great.html
DAVE BERRY: ONZE DOZEN BERRYS
It's now 40 years since Dave Berry's ' eponymous debut album was released and it resounds with the distinctive vocal style It's now 40 years since Dave Berry's ' eponymous debut album was released and it resounds with the distinctive vocal style still sustaining him today as a cornerstone of the Sixties performing scene
Of course this is most obviously the case with 'The Crying Game', the extraordinary recording which introduced the wounded, vulnerable delivery that became a Berry trade mark. Ethereal and chillingly haunting, the song was a high-quality add­ition to the 1964 singles charts, and proves a devastatingly powerful opener to a CD comprising two original Dave Berry LPs.
That first album also included a rendition of ' Memphis Tennessee' – the number written by his namesake Chuck, which had brought him a first minor hit the previous year. But you can visualise Dave's moody stage charisma seeping from the grooves as he confidently dips his brush into an extensive palette and daubs the canvas with a colourful mix of contemporary material.
There are examples of the same kind of r'n'b as his Decca label-mates the Rolling Stones were tackling at the same time but elements of folk, country and skiffle-blues are among other diversities.
A crucial role is played by session guitarists Big Jim Sullivan and Jimmy Page, each of them shining with an inventive display of technical wizardry. 'One Dozen Berrys' was released in 1966 after he had become a well established figure in the pop currency of international record sales, live shows and TV appearances and the LP duly rein­forced his evident popularity. 'I've Got My Tears To Remind Me' a song written by Jackie DeShannon and Jimmy Page showcases Dave at his melodramatic best. With other tracks having been drawn from a variety of sources, including Chuck Berry again, Bobby Goldsboro and Burt Bacharach-Hal David ( Berry's hit 'Baby It's You), an­other wide sweep in content and approach is assured from the outset. by Russell Newmark ( Quoted from The Beat Magazine All Rights Reserved.
DISCLAIMER:  https://www.radio68.be/disclaimer/