My Generation 60s Radio Show: Dance Crazes with The Ray Bryant Combo, The Dovells, Les Bourgeois de Calais, Danny Logan & Les Pirates, The Roulettes; Bues with Mark Harrison, Nina Simone *** Sunday 04 & Tuesday 06 July 2021 *** [Ed's Shox, 2021-26]
NEW SHOW: Dance Crazes with The Ray Bryant Combo, The Dovells, Les Bourgeois de Calais, Danny Logan & Les Pirates, The Roulettes; Bues with Mark Harrison, Nina Simone *** REPEATED *** The Casuals, The Bystanders, the blues that inspired The Rolling Stones part 2 ***  Sunday 04 July 2021, 12 noon till 04:00 + Tuesday 06 July 2021, 12:00 noon till 24:00 *** Time: CET Brussels ***  Ed's Show, 2021-26 [2019-04] ***
RADIO 68: all the revolutionary sounds and voices that shaped the sixties ***
LIKE & JOIN RADIO 68
Like our Page https://www.facebook.com/radio68Belgium
Join our Group https://www.facebook.com/groups/613281298696645
Showtime CETime Brussels
12.00 Dance Crazes, Mark Harrison

14.00

The Casuals, The Bystanders, the Blues that inspired The Rolling Stones part 2

16.00

Dance Crazes, Mark Harrison

18.00

The Casuals, The Bystanders, the Blues that inspired The Rolling Stones part 2

20.00

Dance Crazes, Mark Harrison

22.00

The Casuals, The Bystanders, the Blues that inspired The Rolling Stones part 2

24.00

 

[ENDS HERE ON TUESDAY] 



24.00

Dance Crazes, Mark Harrison

02.00  

The Casuals, The Bystanders, the Blues that inspired The Rolling Stones part 2

04.00 [ENDS HERE ON MONDAY MORNING]  
---
THE PLAYLISTS
NEW SHOWS 12:00, 16:00, 20:00 & 24:00 hrs CET 
01 MY GENERATION: DANCE CRAZES
FORGOTTEN & OVERLOOKED The Supremes, David Bowie, Marmalade.
SPECIAL: DANCE CRAZES with The Ray Bryant Combo +  The Dovells + Georgia Gibbs + The Roulettes + Les Bourgeois de Calais + Danny Logan & Les Pirates.
LONGPLAYTIME Orange Bicycle (Hyacinth Threads, 1967) + Elvis (Kissin' Cousins, 1964 + Roustabout, 1965).
FREE SPEECH  Dan Kennedy
02 MY GENERATON BLUESIDE: SPECIAL MARK HARRISON: Panoramic View
LOVE & PEACE Nina Simone: Mississippi Goddamn.
HOMAGE TO CATALONIA Llibertat Presos Politics.
THE ORIGINATORS  & INSPIRATORS Frank Sinatra & Antonia Carlos Jobim + Etta James (Rocks The House, 1964) + Fats Domino (A Lot of Dominos, 1960).
SPECIAL: MARK HARRISON: Panoramic View with spoken introductions, cd, 2018.
KEEPERS OF THE BLUES FLAME:  Ian Gillan & The Javelins  (cd, 2018) + Joe Shelton (cd Ridin' A Chicken) + The Kentucky Headhunters  (Live At The Ramblin' Man Fair, 2018) + Richard Thompson  (13 Rivers, new cd, 2018) + The Faces.
FREE SPEECH  Jim Hightower
REPEATED SHOWS 14:00, 18:00, 22:00 & 02:00 hrs CET 
03 MY GENERATION : SPECIAL: THE CASUALS, THE BYSTANDERS
LOVE & PEACE  The Fugs: Kill For Peace (second LP).
HOMAGE TO CATALONIA:  Llibertat Presos Politics.
FORGOTTEN & OVERLOOKED Tee Set, Les Têtes Blanches,  James Curtis & The Madisons.
SPECIAL THE CASUALS & THE BYSTANDERS + The Climate (aka The Casuals in Italian).
LONGPLAYTIME Quintssence: In Blissful Company, 1969 (Notting Hill Gate).
FREE SPEECH  & POETRY : Mark Rudd (Weather Underground) + Adrian Henri and Andy Roberts: Tonight At Noon.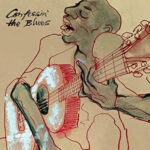 04  MY GENERATION BLUESIDE :  The blues that inspired The Rolling Stones (from 2cd 'CONFESSIN' THE BLUES', disc 2).
LOVE & PEACE The Chambers Bros.: Where Have All The Flowers Gone.
SPECIAL  The blues that inspired The Rolling Stones (from 2cd 'CONFESSIN' THE BLUES', disc 2):  with Bo Diddley, Chuck Berry, Muddy Waters, Little Walter, Jimmy Reed,  Rev. Robert Wilkins, Robert Johnson, Dale Hawkins, Amos Milburn, And More.
KEEPERS OF THE BLUES FLAME: Dionne Warwick.
FREE SPEECH The Freedom Riders

THANKS TO  Joe Shelton www.facebook.com/bigjoeshelton/app_2405167945 + Mark Harrison http://www.markharrisonrootsmusic.com/  + V2 Records & Proper Records for Richard Thompson  + V2 Records for Ian Gillan & The Kentucky Headhunters
ACHTERGRONDINFO *** BACKGROUND INFORMATION

MARK HARRISON THE PANORAMIC VIEW
"Following on from 2016's well-received Turpentine, The Panoramic View is British singer/guitarist/songwriter Mark Harrison's sixth album and probably his best yet. In a collection of 15 original songs, played on a variety of acoustic instruments, recorded with crystalline clarity by Tim Bazell of Heart of Gold Studios in London, Harrison cheerfully mixes folk, blues and gospel to create an album that is uplifting, thought-provoking, entertaining and distinctly different.
In addition to singing in his unaffected yet curiously affecting voice, Harrison fingerpicks National and 12-string guitars masterfully in a Piedmont style, adroitly picking up a slide on "Ain't No Justice". Each song has a different line-up of musicians, from the solo ragtime instrumental "Pool Meadow Strut" (which is not, apparently, named after some rural paradise but the main bus station in the English city of Coventry) to a full band line-up. Harrison's regular band of  Charles Benfield (double bass) and Ben Welburn (drums and percussion) are joined at different time by Paddy Milner (piano), Ed Hopwood (harmonica) and Paul Tkachenko (trombone, trumpet, mandolin and even tuba on "Mess Is Everywhere") […] . Source: All Rights Reserved: http://www.bluesblastmagazine.com/mark-harrison-the-panoramic-view-album-review/
THE BLUES THAT INSPIRED THE ROLLING STONES
CONFESSIN' THE BLUES
"In 2016, The Rolling Stones' stripped down 'Blue and Lonesome'  retrenched to the sort of vintage blues songs that had inspired their early discs. Maybe they were preparing their fans for this superb 42-cut reissue of such gritty music. Guitarist Ronnie Wood did the cover art. We find the greats like John Lee Hooker, Howlin' Wolf and Elmore James, with plenty of tracks from Chicago-based Chess, the leading label in introducing 1950s and '60s white kids to rock's roots in the blues (Chess men Chuck Berry and Bo Diddley being prime movers). As the thorough notes remark, "This stuff was primal, authentic, sexy and dirty, perfect for the racing hormones of spotty schoolkids. (…) ".
Source / All Rights Reserved: https://www.goldminemag.com/reviews/review-confessin-the-blues
DISCLAIMER
https://www.radio68.be/disclaimer/