My Generation *** Psychedelic States: Alabama, Nirvana (the singles) *** And Also P.J. Proby, Bakerloo, T. Rex, Percy Sledge, Honeybus, Rudy Bennett …. *** Sunday 22 & Tuesday 24 May 2022 *** [Ed's Show, 2022-16]
NEW SHOW: * Psychedelic States: Alabama, Nirvana (the singles), And Also P.J. Proby, Bakerloo, T. Rex, Percy Sledge, Honeybus, Rudy Bennett …. ***  REPEATED Presenting Radio Sidney, Canada: The Presidents Special with Bruce Welsh + The Merseys and Friends (Johnny and John, The Crackers, The Johnny Gus Set) *** Sunday 22 May 2022 & Tuesday 24 May 2022, 12:00 noon till 24:00 *** Time: CET Brussels ***  Ed's Show, 2022-16 (2018-44 & -47 Nirvana) *** RADIO 68: all the revolutionary sounds and voices that shaped the sixties ***
LIKE & JOIN RADIO 68
Like our Page https://www.facebook.com/radio68Belgium
Join our Group https://www.facebook.com/groups/613281298696645
Showtime CETime Brussels
12.00 Psychedelic Alabama, Nirvana

14.00

Presidents, The Merseys

16.00

Psychedelic Alabama, Nirvana

18.00

The Presidents, The Merseys

20.00

Psychedelic Alabama, Nirvana

22.00  T

he Presidents, The Merseys

24.00

 

[ENDS HERE ON TUESDAY] 



24.00

Psychedelic Alabama, Nirvana

02.00

The Presidents, The Merseys

04.00 [ENDS HERE ON MONDAY MORNING]  
---
THE PLAYLISTS
NEW SHOWS 12:00, 16:00, 20:00 & 24:00 hrs CET 
01 MY GENERATION: Psychedelic States: Alabama
LOVE & PEACE  Simon & Garfunkel: 7 O'clock Newssilent Night.
FORGOTTEN & OVERLOOKED  HET + Rudy Bennett + The Jumping Jewels feat. Johnny Lion.
SPECIAL:   Psychedelic States: Alabama. Featuring The K-Otics, The Outer Mongolian Herd,  The Swingin' Lamp Liters, The Stolen Children, The "In", The Movement, The Mishaps (cd Psychedelic States: Alabama in the 60s, vol. 2).
LONGPLAYTIME P.J. Proby: Three-Week Hero, 1969) + Percy Sledge: Warm & Tender Soul, 1966 + Nancy Sinatra: How Does That Grab You, 1966  + Steppenwolf: Monster, 1969 + Sounds Orchestral: Cast Your Fate To The Wind + Sandie Shaw & Chris Andrews < Sandie Shaw: Me, 1965.
WORD : Mexico 2 October 1968 The Massacre (https://www.youtube.com/watch?v=Coce6lHkHAA + Frederik De Preester leest Erik De Preester (Rebel te zijn, Het Westen predict de vrede)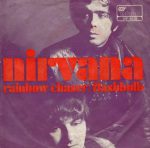 02 MY GENERATION: NIRVANA The Singles
LOVE & PEACE  The Flower Pot Men: A Walk In The Sky
HOMAGE TO CATALONIA: Llamp Te Frigui: La Marianna  (LLTF) http://llamptefrigui.fr/
FORGOTTEN & OVERLOOKED
DON CRAINE's NEW DOWNLINERS SECT + HONEYBUS (demo, 1967) + MURRAY HEAD.
SPECIAL  NIRVANA: The 1967 & 1968 singles: Rainbow Chaser , Girl In The Park, Pentecost Hotel,  Tiny Goddess, Trapeze (B-side of 'All Of us'), Flashbulb (B-side of 'Rainbow Chase').
LONGPLAYTIME:  B.B. KING (, LP Blues On Top Of Blues', 1968) + BAKERLOO (LP 'Bakerloo', 1969) + BILLY LEE RILEY (LP 'In Action', 1966) + TYRANNOSAURUS REX (LP 'Unicorn', 1969). 
FREE SPEECH DE GEDACHTEN ZIJN VRIJ: Donovan + Boudewijn De Groot Bruce Kent 
 REPEATED SHOWS 14:00, 18:00, 22:00 & 02:00 hrs CET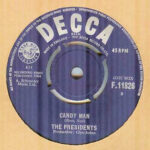 03 MY GENERATION presents 'WHAT ABOUT US?': The Presidents
Canadian DJ Bruce Welsh interviews President Robin Mayhew about The Presidents and plays their recordings.
04 MY GENERATION: THE MERSEYS
LOVE & PEACE  H.P. LOVECRAFT:  Let's Get Together
FORGOTTEN & OVERLOOKED: THE WHO: Sad About Us + LES BAROQUES: Sure He' A Cad + The McCOYS: Sorrow.
SPECIAL  THE MERSEYS: Sorrow, The Cat, Penny In My Pocket, Sad About Us, Rhythm Of Love, Honey Do [as The Crackers (singles A-side, 1966-68) + JOHNNY and JOHN: Bumper to Bumper + THE JOHNNY GUS SET: Sweet Day.
LONGLAYTIME BIG BROTHER & THE HOLDING COMPANY: Catch Me Daddy (Live) + JETHRO TULL (Cat's Squirrel, LP 'This Was', 1968) + MOBY GRAPE (Murder In My Heart For the Judge, LP 'Wow', 1968).
FREE Hippie Chick + Ken Kesey  on LSD.
 BACKGROUND + MEER INFORMATIE
MEXICO CITY: the Masssacre of 2nd October 1968
"On October 2nd, ten days before the Olympics were to begin, around ten thousand students gathered in the Plaza of Three Cultures. They were surrounded by thousands of soldiers and armoured vehicles; only in 2001 was it confirmed that dozens of agents provocateurs and snipers were positioned among and around the crowd too. Just after six in the evening, flares were lit and shooting began. Elena Poniatowska collated eyewitness accounts giving a harrowing impression of chaos and confusion.   The crowd of students, as well as local workers and families, were fired upon, and many were killed. The number of dead remains controversial; early, absurdly-low government claims repeated by domestic (and some international) media were replaced over time by suggestions of many dozens – and perhaps hundreds – murdered." Quoted From / All Rights Reserved: https://www.versobooks.com/blogs/3884-1968-an-end-and-a-beginning-for-mexico
PSYCHEDELIC STATES: Alabama in the 60s, vol. 2
"The second Alabama instalment in Gear Fab's fab "Psychedelic States" is more of the same, meaning a mixed bag of Clearasil psychedelia and undersexed garage rock, but it skews enticingly more towards the former sort of weirdness this time around than did the original volume. The compilation still has the good (but not psychedelic) regional hits mixed in with the fourth-rate, mainstream-aping pap (unappetizing even as guilty nostalgic pleasures) and more than its fair share of decent but not-nearly-as-groovy-as-they-thought filler, which is at least of a quality to elicit a giggle or smile the first two or three times through (though that is perhaps one or two more spins than the stuff merits). On the other hand, the relatively significant number of oddball, shaggy-dog nuggets makes the collection worth sifting through, starting right out the box with  The Chimes "#38" and its effects pedal-heavy acid blues. The Distortions do a far-out, yowling (literally) version of the Howlin' Wold classic "Smokestack Lightning" with some excellent slide guitar work, good enough to get them signed to Mercury. The deliciously named the Outer Mongolian Herd crank out a "Hey Joe" halfway between the Love version of the song and the unhinged nuttiness of "Wooly Bully." And the infectious, harmony-laden "You're Playing With Fire" finds  The Male in full-tilt boogie. But perhaps the strangest curiosity, for extra-musical reasons: "Think!!," a 1968 cut by George Wallace Jr. Yes, the son of the infamous governor. And, yeah, it's pretty solid". Quoted From / All Rights Reserved: AllMusic Review by Stanton Swihart  allmusic.com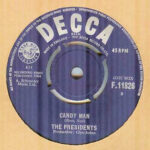 THE PRESIDENTS
The Presidents: 1959 to 1965
The Presidents was formed in 1959, and played mainly in pubs and clubs throughout the South London suburbs, experiencing numerous personnel changes until it dissolved in 1965. Over the years they played alongside bands such as The Who, The Rolling Stones, The Animals, and Georgie Fame.
Singer Rick Tyrell was a member of The Fenders aka The Strangers, who became The Roulettes in September  1961.
http://www.the-presidents.org.uk/index.htm
ABOUT RICK TYRELL and THE ROULETTES: https://www.eddybonte.be/just-good-music/pop/the-roulettes/side-stories/from-senator-to-president-rick-tyrell/
RADIO SIDNEY: 'WHAT ABOUT US?'  by BRUCE WELSH
'What About Us?' showcases the thousands of "other guys" who were turning out records in the U.K. between 1962 and 1969.  A few may have had fleeting success with a one hit wonder tune but like all the big names of the day, they were just trying to make it big.  Some of them enjoyed major success outside the U.K. over in Germany, France, Italy and Sweden and experienced the frenzied girls screaming and chasing them.  A number of these bands also contained members who would eventually crack the big time with other bands but they paid their dues in these lesser known bands before finding success.
As for a bit on me, I'd just use the About The Author  of  "What About Us?: A Rocklopaedia of Britain's Other Recording Groups 1962-1966 " (M-Y Books UK) https://m-ybooks.co.uk/
Bruce Welsh, Radio Sidney  https://www.radiosidney.ca/about-us
THANKS TO
BRUCE WELSH for allowing Radio 68 to broadcast his Presidents Special, originally produced for Radio Sidney in Canada:
https://www.radiosidney.ca/about-us

MY REVIEW / MIJN BESPREKING
DISCLAIMER
https://www.radio68.be/disclaimer/