Rock On! Wednesday, 13 July – David Bedford, Pierrot Lunaire, Soft Machine, Samla Mammas Manna & Moving Gelatine Plates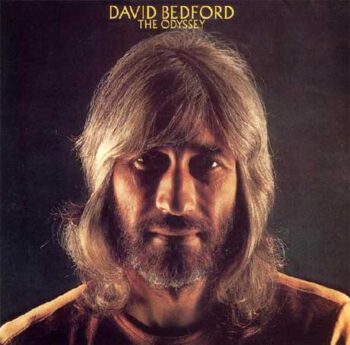 Psychedelic, heavy, prog and more innovating sounds spanning the late 60s and the early 70s – Wednesday September 15th. Dan's pick of the week: David Bedford (The Odyssey), Pierrot Lunaire (Pierrot Lunaire), Soft Machine (The Soft Machine), Samla Mammas Manna (Måltid) & Moving Gelatine Plates (The World of Genius Hans).
David Bedford was een Engelse componist en muziekpedagoog. Aan het einde van de jaren 60 speelde hij in de cultband The Whole World, wat hem opdrachten vanuit de rock-wereld bracht. Hij werkte ook samen met Mike Oldfield. Bedford deed ook orkestraties voor de films The Killing Fields (1984), Absolute Beginners (1986), Meeting Venus (1991) etc.
Roel Steverink van Exposé Online: "Bedford reached a new high with The Odyssey from 1976. It's based upon the Odyssey which Odysseus undertook in the eponymous book from Homer. (…)
In "The Phaeacian Games" Bedford gets help from Mike Oldfield's guitar, instantly recognizable. In "The Sirens," a string of female choir, whirling arpeggiator, dark synth background, minimal organ and bright guitar noodling shines through a dissolving hazy light, which makes this one of the most beautiful tracks Bedford ever composed. His music always has this strong contrast of clear melodies and odd harmonies, which work wonderfully well. What makes this music so tasty are the warm sounds from the mighty Arp 2600 semi-modular Bedford plays. It's quite amazing to learn that he actually performed this work live in the Royal Albert Hall, but not without the help of 10 keyboard players! One minor flaw is the level of noise Virgin has let slip through, which can be a bit annoying during soft passages. Definitely something for Reich and Glass admirers who also have a fondness for a more symphonic approach."
http://expose.org/index.php/articles/display/david-bedford-the-odyssey-32.html
Wednesday Wednesday July 13th 2022, 12:00 noon CET Brussels – 11 a.m. GMT London. Repeated: 16:00 & 20:00 hrs CET Brussels, 3 p.m. & 7 p.m. GMT London
Ends: 12 midnight CET Brussels, 11 p.m. GMT London.