Rock On! Wednesday, 13 June – Van Der Graaf Generator, Klaatu, Gentle Giant, Gong & Peter Hammill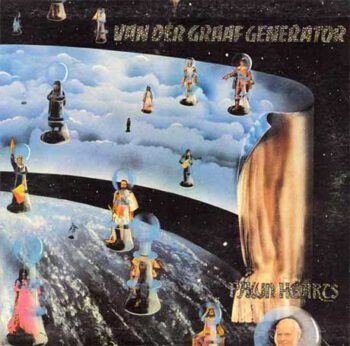 Psychedelic, heavy, prog and more innovating sounds spanning the late 60s and the early 70s – Wednesday September 15th. Dan's pick of the week: Van Der Graaf Generator (Pawn Hearts), Klaatu (3:47 Est), Gentle Giant (In a Glass House), Gong (Gong Live Etc.) & Peter Hammill (Chameleon in the Shadow of the Night).
Begin 1971 is de ster van Van Der Graaf Generator rijzende. Niet alleen dankzij drie fantastiche albums, maar ook een hele reeks optredens. Vanaf het begin vormde zanger Peter Hammill de spil van de band. Zijn karakteristieke stem is bepalend voor het geluid van de groep. Bovendien schreef hij de meeste nummers.
Wouter Bessels van Prog Wereld: "Eigenlijk is het hele album van begin tot eind een diepgaande en introspectieve reis door Hammills belevingswereld, waarvoor hij met Hugh Banton, Guy Evans en David Jackson ook muzikaal flink aan het experimenteren slaat. Nee, "Pawn Hearts" is op alle fronten zeker geen lichte kost. Atonale klanken zijn de groep niet vreemd, terwijl sax en toetsen op sommige momenten voor de broodnodige harmonie zorgen en Evans de bij vlagen jazzy aandoende rock als een rijdende trein op het spoor houdt. En dan die stem van Hammill: door merg en been. Indringend. Beklemmend. Gepassioneerd. (…)
Evenals "Lizard" en "Islands" van King Crimson is "Pawn Hearts" misschien wel de ultieme plaat waarop vroege, zware progrock op uitdagende wijze de handen ineenslaat met avant-garde en jazzrock. Dit is ook een album waarop je volledig voor in de stemming moet zijn. De vrolijkheid en de dosis relativeringsvermogen zijn soms ver te zoeken. Maar de innerljke kracht is sterk en onweerstaanbaar. Zo sterk dat VDGG na deze plaat het eventjes welletjes vindt en pas ruim drie jaar later met de overtuigende opvolger "Godbluff" de draad weer oppikt."
Wednesday Wednesday June 13th 2022, 12:00 noon CET Brussels – 11 a.m. GMT London. Repeated: 16:00 & 20:00 hrs CET Brussels, 3 p.m. & 7 p.m. GMT London
Ends: 12 midnight CET Brussels, 11 p.m. GMT London.