Rock On! Wednesday, 14 december 2022 – Return to Forever, Hancock, Mouzon, Weather Report, Di Meola & Santana-Mclaughlin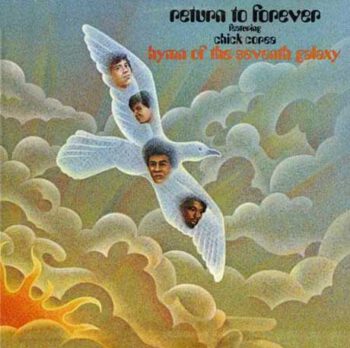 Psychedelic, heavy, prog and more innovating sounds spanning the late 60s and the early 70s – Wednesday November 16th. Dan's pick of the week: Return to Forever (Hymn of the Seventh Galaxy), Herbie Hancock (Head Hunters), Alphonse Mouzon (The Essence of Mystery), Weather Report (Heavy Weather), Al Di Meola (Land of the Midnight Sun) & Carlos Santana & John Mclaughlin (Love Devotion Surrender).
Hymn of the Seventh Galaxy is het derde studioalbum van de Amerikaanse jazzfusionband Return to Forever. De plaat werd in oktober 1973 uitgebracht door Polydor. Flora Purim, Joe Farrell en Airto Moreira werden vervangen door drummer Lenny White en gitarist Bill Connors. Maar het zou het enige album zijn met Bill Connors als gitarist, hij vertrok na de release en werd vervangen door Al Di Meola.
Prog Archives review: "The result is nothing less than some of the most inspired ferocious fusion this side of the Mahavishnu Orchestra. Blazing unison passages otherworldly melodies and playful volleying back and forth of phrases make this a real edge of the seat listen. The frighteningly tight unison passages of the title track served notice this was a band to be reckoned with. With relatively primitive musical technology, these fearsome foursome put forth very bold musical ideas that transcended these limitations.
There's not one weak track on here, but if I had to pick highlights, definitely the title track, "Captain Senior Mouse", a dizzyingly complex Spanish flavored piece, "Theme To The Mothership" on which Bill Conors really tears it up on guitar and Chick does a blazing ring modulated Rhodes solo that would've been right at home on a Soft Machine or National Health album. (…)
This is one of those discs that really gets the blood going, so turn it up to 11 and fall under its wonderful spell!"
Wednesday December 14th, 2022, 12:00 noon CET Brussels – 11 a.m. GMT London. Repeated: 16:00 & 20:00 hrs CET Brussels, 3 p.m. & 7 p.m. GMT London
Ends: 12 midnight CET Brussels, 11 p.m. GMT London.