Rock On! Wednesday, 17 March – Hoelderlins Traum (Hoelderlin, Bröselmaschine, Kraan, Out Of Focus, Wallenstein)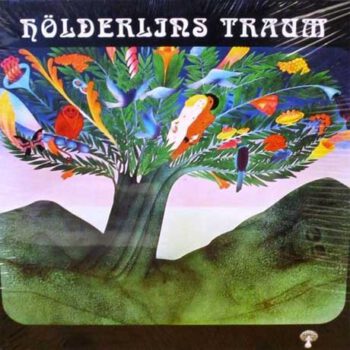 Psychedelic, heavy, prog and more innovating sounds spanning the late 60s and the early 70s – Wednesday December 23rd. Dan's pick of the week: Hoelderlin (Hoelderlins Traum), Bröselmaschine (Bröselmaschine), Rufus Zuphall (Phallobst), Kraan (Kraan), Out Of Focus (Out Of Focus) & Wallenstein (Blitzkrieg).
De Duitse band Hölderlin debuteerde met een merkwaardige mengeling van folky protestliedjes in combinatie met symfonische rock. Prog Archives review: "This absolutely delightful record is an incredibly successful mix of medieval ambiances, stunning 60's folk rock, slight Indian music influences, the whole thing sprinkled with a tad of hippy idealism and great progressive arrangements including the odd Mellotron. From the opening Waren Wir to the closing Traum (dream), the album is invitation fly out of our realm and head for Nirvana, paradise, Eden, Babylon, with flaunts of flutes, loads of Hamonds, Trons of Mello, guitars strings by the dozens and superb vocals both male and female.
If you cannot find a suitable album to get comfy and shag the partner, try this one and do not forget to put the repeat (the album is fairly short), and the trick is half-done. To name a highlight would be quite difficult, as you'd be doing injustice to the other non-mentioned tracks. Not a weak note on this album. Nanny de Ruyg's voice is right up with the cannons of the genre and the German lyrics are simply heavenly music for the mind.
One of those incredibly good-vibes record, with breathtaking beauty, this is easily in my top 50, and it would be criminal of you if it was not in yours within two months of reading this review. Run for it!"
Wednesday Wednesday March 17th 2021, 12:00 noon CET Brussels – 11 a.m. GMT London. Repeated: 16:00 & 20:00 hrs CET Brussels, 3 p.m. & 7 p.m. GMT London
Ends: 12 midnight CET Brussels, 11 p.m. GMT London.