Rock On! Wednesday, 18 August – Staircase to the Day (Gravy Train, Raw Material, Arcadium, Tractor & Yesterday's Children)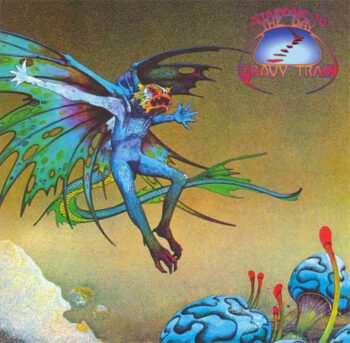 Psychedelic, heavy, prog and more innovating sounds spanning the late 60s and the early 70s – Wednesday December 23rd. Dan's pick of the week: Gravy Train (Staircase to the Day), Raw Material (Raw Material), Arcadium (Breathe Awhile), Tractor (A Candle for Judith-Tractor) & Yesterday's Children (Yesterday's Children).
Gravy Train was een progressieve rockgroep uit Lancashire, Engeland. De band werd opgericht door zanger en gitarist Norman Barratt in 1969. Ook J.D. Hughes (keyboards, zang, blazers), Les Williams (bas, zang) en Barry Davenport (drums) behoorden tot de groep. De groep zou vier studio-albums opnemen. Staircase to the Day is het vierde en laatste album.
Prog Archives review: "This album certainly does not have the feel of a band bidding farewell, indeed it is generally hailed as their best. The Roger Dean gatefold sleeve offer folks from these parts the firm hope that the contents will be of a similar quality, and the opening "Starbright starlight" immediately reassures us that this will be the case. There are distinct echoes of Uriah Heep in the high vocal harmonies, and while the synthesizer sounds may now sound a little dated, they add some fine colours to a superb opening song.
Things get even better on the following power ballad "Bring my life on back to me", a song full of emotion and strength, with delightful guitar and gospel style choruses. The 7½ minute title track retains the softer, more melodic style, the high vocals alternating with harsher rock ones. The track features some fine lead guitar work and delightful flute playing by JD Hughes. This song above all others really is a delight, with high harmonies uplifting us towards its conclusion.(…)
Overall, it is difficult to argue with those who cite "Staircase to the day" as the band's best album. Yes, things can occasionally dip, but by and large the songs here are of a high quality, with excellent arrangements and fine execution. The album does indeed warrant the "forgotten gem" tag it so often carries."
Wednesday Wednesday August 18th 2021, 12:00 noon CET Brussels – 11 a.m. GMT London. Repeated: 16:00 & 20:00 hrs CET Brussels, 3 p.m. & 7 p.m. GMT London
Ends: 12 midnight CET Brussels, 11 p.m. GMT London.