Rock On! Wednesday, 18 January – Iron Butterfly, Spooky Tooth, The Pretty Things, Traffic, Humble Pie & Ultimate Spinach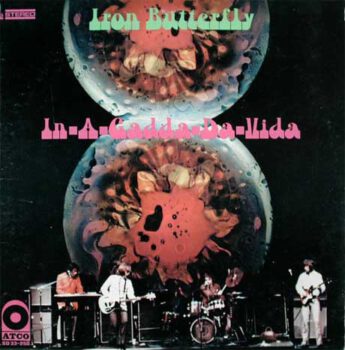 Psychedelic, heavy, prog and more innovating sounds spanning the late 60s and the early 70s – Wednesday September 15th. Dan's pick of the week: Iron Butterfly (In-A-Gadda-Da-Vida), Spooky Tooth (The Last Puff), Traffic (John Barleycorn Must Die), The Pretty Things (Parachute), Humble Pie (Rock On) & Ultimate Spinach (Ultimate Spinach).
Ultimate Classic Rock: "Over the years, Iron Butterfly's most famous song, "In-A-Gadda-Da-Vida," has become a comedic punchline, a whipping boy for the overblown and pretentious aspects of rock 'n' roll. But strip away the years of abuse and there's a classic.
Iron Butterfly grew out of the Los Angeles scene of the mid-'60s. Their sound blended the dramatic sense of the early Doors with the garage spirit of the Seeds and the Music Machine. Iron Butterfly's first album, 1967's Heavy, was full of three-minute nuggets that carried a hint of psychedelia and a shade of melancholy. The baritone vocals of Doug Ingle set them apart from much of their peers – besides Jim Morrison and the Music Machine's late frontman Sean Bonniwell, there weren't many others singing in that lower range.
Heavy scraped the bottom of the Top 100, but ultimately made no dent in the public ear. The band was having internal issues, as well. Band leader Ingle and drummer Ron Bushy regrouped with new members and forged ahead with album number two. Released on June 14, 1968, In-A-Gadda-Da-Vida quickly became hot property, even as a severely edited version (2:53) of the title track went Top 40.
Iron Butterfly found commercial success as In-A-Gadda-Da-Vida quickly went gold and then – over the years – sold millions and millions more. Call it pretentious or overblown, but the album captured a specific moment in rock 'n' roll's culture. Even today, it still makes for great late-night listening."
Wednesday Wednesday January 18th 2022, 12:00 noon CET Brussels – 11 a.m. GMT London. Repeated: 16:00 & 20:00 hrs CET Brussels, 3 p.m. & 7 p.m. GMT London
Ends: 12 midnight CET Brussels, 11 p.m. GMT London.