Rock On! Wednesday 18 October 2023 – Jethro Tull, U.K., Caravan, Focus & Steve Hackett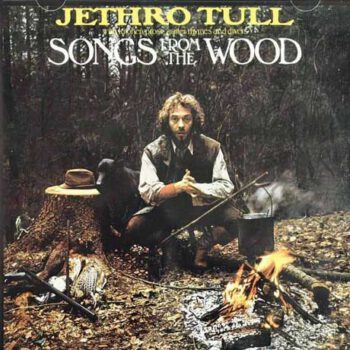 Psychedelic, heavy, prog and more innovating sounds spanning the late 60s and the early 70s –  Wednesday August 12th.  Dan's pick of the week: Jethro Tull (Songs From the Wood), The Moody Blues U.K. (Night After Night: U.K. Live!), Caravan (If I Could Do It All Over Again, I'd Do It All Over You), Focus (Moving Waves) & Steve Hackett (Voyage of the Acolyte).
Jethro Tull kennen we als een Britse progressieve rockband uit Luton, een stad boven Londen gelegen. De band werd opgericht in 1967 rond de Schotse voorman Ian Anderson. Hun muziek is herkenbaar aan de opmerkelijke zangstijl en het unieke dwarsfluitwerk van Anderson, aan de ongewone en vaak complexe liedconstructies en aan de intelligente teksten.
Math Lemmen van Prog Wereld: "Naast de Keltische invloeden was dit ook het eerste album waarop David Palmer als officieel bandlid opdraaft. Hij drukt met zijn inbreng een sterk klassiek stempel op dit album. Dit hoor je vooral terug in de rijkdom en diepte van de arrangementen, waarbij je voor folkrock opvallend veel toetsen terug hoort. Daardoor leunt dit album misschien wel het meest van alle Tull-albums tegen de prog-rock aan. "Songs From The Wood" verschilt dan ook sterk van zijn ruwe en harde voorganger "Too Old To Rock & Roll: To Young To Die!" Ook in thematiek van de songs is er een groot contrast met de voorgaande albums van Jethro Tull. Gingen die vooral over het leven in London en de negatieve uitwassen van de gevestigde religies, hier betreft het vooral een schildering van het leven op het platteland.
Beroemd is natuurlijk de á capella opening van de titelsong, als ware het Catweazle (zie de foto op de hoes) die een workshop aankondigt van natuurgeneeswijzen. Erg charmant, dat wel. In sommige nummers die volgen, hoor je invloeden uit de Engelse middeleeuwen terug, zoals Jack-In-The-Green, Cup Of Wonder en Ring Out, Solstice Bells. In andere nummers hoor je barokke folk-arrangementen zoals Velvet Green en Fire At Midnight. Daarbij worden diverse authentieke instrumenten zeer smaakvol en subtiel ingezet."
Wednesday august 20th, 12:00 noon CET Brussels – 11 a.m. GMT London. Repeated: 16:00 & 20:00 hrs CET Brussels, 3 p.m. & 7 p.m. GMT London
Ends: 12 midnight CET Brussels, 11 p.m.  GMT London.