Rock On! Wednesday, 19 October – Kansas, Journey, Triumph, Captain Beyond, Golden Earring & Spooky Tooth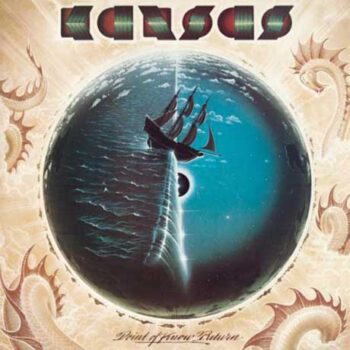 Psychedelic, heavy, prog and more innovating sounds spanning the late 60s and the early 70s – Wednesday September 15th. Dan's pick of the week: Kansas (Point of Know Return), Journey (Journey), Triumph (Rock & Roll Machine), Captain Beyond (Sufficiently Breathless), Golden Earring (Live '77) & Spooky Tooth (Spooky Two).
Point of know return is het vijfde studioalbum van Kansas. Nadat de band al eerder Masque en Leftoverture in de "Studio in the Country" in Bogalusa (Louisiana) had opgenomen, startten in juni 1977 de opnamen aldaar voor wat Point of know return zou worden.
Ruud Stoker van Prog Wereld: "Point Of Know Return van de Amerikaanse band Kansas is één van mijn grote klassiekers. Eind jaren zeventig brak deze band door met het tijdloze nummer Dust In The Wind. Voordat dit album werd uitgebracht, had Kansas al zo'n vier langspeelplaten uitgebracht. Mijn eerste kennismaking met deze symfonische band was ook meteen raak. (…)
Er wordt geopend met het titelnummer Point Of Know Return en neemt je direct mee naar de tijd dat de mensen dachten dat de aarde plat was en je een bepaalde koers moest varen om er niet van af te vallen. De hoes geeft dit "praktische" probleem ook op fantastische wijze weer: het schip dat vanaf de zee in het niemandsland valt. Het aanstekelijke staccato orgelgeluid van Steve Walsh geeft het tempo van het nummer aan en datzelfde orgelgeluid loopt eigenlijk als een rode draad door de CD. Het schrijversduo Kerry Livgren / Steve Walsh is zo'n beetje verantwoordelijk voor alle songs waarbij Walsh de rol van extraverte zanger / toetsenist vervult, die zich op de bühne manifesteert als een krachtig wapen van Kansas met vlijmscherpe hoge stem en een uithoudingsvermogen van vier voetbalelftallen tezamen. Livgren is de introverte man die zich tijdens een concert nestelt achter toetsen en gitaar en je krijgt de indruk dat hij het liefst achter de gordijnen gaat staan of sterker nog: liever in de studio was gebleven om nieuwe nummers te componeren. Deze perfecte aanvulling op elkaar is misschien wel het element dat Kansas zo groot heeft gemaakt. (…)
Point Of Know Return is een klassieker die je gewoon in je verzameling moet hebben. Kansas is sterk beïnvloed door groepen als Genesis en City Boy. De kans is groot dat je na het beluisteren van deze CD alles van Kansas wilt bezitten."
Wednesday October 19th, 2022, 12:00 noon CET Brussels – 11 a.m. GMT London. Repeated: 16:00 & 20:00 hrs CET Brussels, 3 p.m. & 7 p.m. GMT London
Ends: 12 midnight CET Brussels, 11 p.m. GMT London.