Rock On! Wednesday, 20 April – Atoll, Pulsar, Clearlight, Acqua Fragile, Campo Di Marte & I Giganti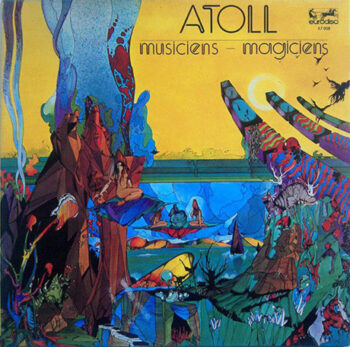 Psychedelic, heavy, prog and more innovating sounds spanning the late 60s and the early 70s – Wednesday September 15th. Dan's pick of the week: Atoll (Musiciens-Magiciens), Pulsar (The Strands of the Future), Clearlight (Les Contes Du Singe Fou), Acqua Fragile (Live Emilia '75), Campo Di Marte (Campo Di Marte) & I Giganti (I Grandi Successi Originali).
Atoll was een getalenteerd Frans ensemble met een eigen symfonisch geluid. Hun stijl is zeer theatraal van aard en biedt dynamische en melodieuze arrangementen met een aantal geweldige songs. Het is onmogelijk om de vergelijkingen met Genesis, Yes en Mahavishu Orchestra te vermijden. De wisselingen van leden waren een ander kenmerk van deze groep die John Wetton onder hun leden telde.
Prog Archives: "Fine debut from the French quintet, especially as first albums in Prog tend to be hit-or-miss, Musiciens-Magiciens is unusually well-developed and demonstrates all the promise fulfilled on their following releases. Typical to be sure, mediocre not at all, and though quite stuck in its early 70s post-Hendrix jamrock soup, the band never sacrificed the prog. In addition to their native influences oft cited [Ange, Mona Lisa], the closest reference would have to be Yes' microscopically discordant vocal harmonies. Also on hand is the foggy mystery of Bo Hansson, hints of early Genesis and the distant sounds of North American rock. It's a good mix from a really talented bunch.
'L'Hymne Medieval' is familiar Symph Français but 11+ minute 'Le Baladin du Temps' is much more involved with great changes and some nice surprises. Luc Serra's guitar lines over his and Michel Taillet's keys ring an irresistible Allman-like bell of harmony, backed-up by the heavy bass of Jean-Luc Thillot and le batterie de Alain Gozzo. Same for the hard funk of the title track, a kitsch beauty of its time peppered by some hot brass. Standout 'Au-dela des Ecrans de Cristal' is European prog when it was European pop– and it's excellent, filled with plenty of development and tight playing. And though uninteresting, commercial 'Le Secret du Mage' foreshadows the Gallophilic chants of The Police. Soft and folkie 'Le Berger' is a rest before the huge 'Je Suis D'Ailleurs', a satisfying journey through the space/prog solar system of 1974."
Wednesday Wednesday April 20th 2022, 12:00 noon CET Brussels – 11 a.m. GMT London. Repeated: 16:00 & 20:00 hrs CET Brussels, 3 p.m. & 7 p.m. GMT London
Ends: 12 midnight CET Brussels, 11 p.m. GMT London.