Rock On! Wednesday, 21 September – Deep Purple, Wishbone Ash, Uriah Heep, Rainbow, Black Sabbath & Budgie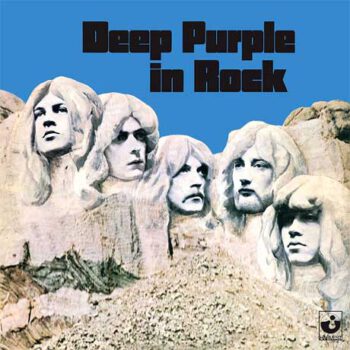 Psychedelic, heavy, prog and more innovating sounds spanning the late 60s and the early 70s – Wednesday September 15th. Dan's pick of the week: Deep Purple (Deep Purple in Rock), Wishbone Ash (Pilgrimage), Uriah Heep (Look at Yourself), Rainbow (Ritchie Blackmore's Rainbow), Black Sabbath (Sabbath Bloody Sabbath) & Budgie (Budgie).
Deep Purple in Rock is het vierde studio-album van de Britse hardrockband Deep Purple, het eerste in de meest succesvolle samenstelling. De opnames van deze LP vonden plaats in drie studio's: De Lane Lea Studios, Abbey Road Studios en in de IBC-studio. Het album werd een enorm succes, met ondermeer de tijdloze hit Child in Time.
Laureline Tilkin van Tuonela Magazine: "Formed in 1968, DEEP PURPLE originally was formed as a psychedelic and progressive rock band in Hertfordshire. After listening to LED ZEPPELIN's self-titled debut album, founding member Richie Blackmore wanted to have a go at a heavier sound and thus the rest of the band decided to replace their original lead singer, Rod Evans, with someone who could tackle a hard rock style: Ian Gillian. This was the start of "Deep Purple Mk. II," one of the band's most legendary lineups with the addition of songwriter and bass player Roger Glover. "Deep Purple In Rock" marks the lineup's first studio album and possibly one of DEEP PURPLE's stepping stones in Europe.. (…)
By employing a Hammond organ, hard and heavy guitar riffs, and Ian Gillan's distinctive vocals, DEEP PURPLE were the forefathers of hard rock and heavy metal, fully evident in "Deep Purple In Rock." With the heavy and aggressive "Speed King," DEEP PURPLE proved they were louder, faster, and more aggressive than any other band in the 70s. "Bloodsucker" contains the iconic trademark Gillian screams, which made the singer so prominent in the genre. "Child in Time" was proof of their excelling skills as songwriters, with lyrics melting into the music perfectly, the song perhaps is one of the most iconic rock songs in history. In "Child in Time" Ian Gillan truly earns his spot adorning the top of Mt. Rushmore of rock vocalists.  (…)
"Deep Purple In Rock" is the album that really changed rock music from a sound that was largely derived from blues to a higher level and at times was even influenced by classical music, especially shining through in the guitar and keyboard sections – an approach that is nowadays still used in heavy metal music."
Wednesday 21st September 2022, 12:00 noon CET Brussels – 11 a.m. GMT London. Repeated: 16:00 & 20:00 hrs CET Brussels, 3 p.m. & 7 p.m. GMT London
Ends: 12 midnight CET Brussels, 11 p.m. GMT London.