Rock On! Wednesday, 23 august – Rush, Saga, Blue Öyster Cult, Journey, Led Zeppelin & Lone Star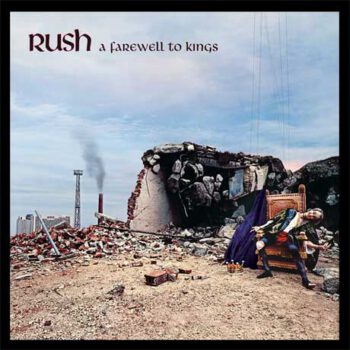 Psychedelic, heavy, prog and more innovating sounds spanning the late 60s and the early 70s – Wednesday August 12th. Dan's pick of the week: Rush (A Farewell to Kings), Saga (Saga), Blue Öyster Cult (Secret Treaties), Journey (Evolution), Led Zeppelin (Led Zeppelin III) & Lone Star (Lone Star).
Rush werd opgericht in 1968 door Alex Lifeson (gitaar), John Rutsey (14 mei 1953 – 11 mei 2008) (drums) en bassist Jeff Jones. Na korte tijd wordt Jeff Jones vervangen door bassist/zanger Geddy Lee). Thuisbasis is Toronto, Canada. Ze coveren dan alleen werk van bijvoorbeeld Cream, Jimi Hendrix en The Who.
Chris Wright van Now Spinning Magazine: "The follow up to the incredible 2112, and recorded in Wales at the legendary Rockfield Studios, AFTK was, for me, the moment when the band's awesome potential was fully realised. It's such an overwhelming set of music. Multi, multi-layered and featuring the then fast maturing master musicianship of Messrs Lee, Lifeson and Peart.
Very 1970s in its overall mood, motifs and fantasy themes, Farewell was very much of its time, yet to these ears it's as fresh as that first listen. I'm not a particular fan of what Rush became after Moving Pictures, and if pushed to name a favorite LP, I think I'd pick this one.
Although it's not a concept album, it has that kind of gravitas. Each song is of such high quality, with Xanadu and Cygnus X-1 being really dramatic epics and most definitely high up in any Rush devotee's top track list. (…)
The impact of this album on me is such that, when holidaying in Wales one year, I had to go to see Rockfield Studios just to say I'd been where Farewell, and a good many other great albums, in fairness, were recorded. It's such an immense record."
Wednesday august 12th, 12:00 noon CET Brussels – 11 a.m. GMT London. Repeated: 16:00 & 20:00 hrs CET Brussels, 3 p.m. & 7 p.m. GMT London
Ends: 12 midnight CET Brussels, 11 p.m. GMT London.