Rock On! Wednesday, 23 december – Caravanserai (Santana, The Love, Mandrill, Mahavishnu Orchestra, Larry Coryell)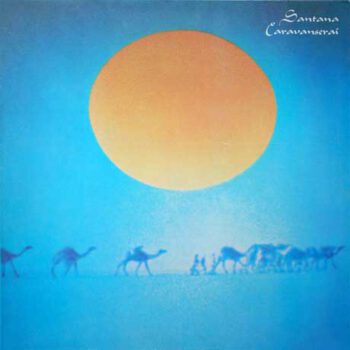 Psychedelic, heavy, prog and more innovating sounds spanning the late 60s and the early 70s – Wednesday December 23rd. Dan's pick of the week: Santana (Caravanserai), The Love (Four Sail), Mandrill (Composite Truth), The Mahavishnu Orchestra (The Inner Mounting Flame) & Larry Coryell (Coryell).
In het begin van de jaren zeventig werd de rockmuziek gekenmerkt door langere nummers en het verkennen van een breder muziekvlak door de artiesten. Ook Carlos Santana was een pionier op het gebied van het ineensmelten van muzikale stromingen en bracht in 1972 één van zijn allermooiste albums uit.
Eric de Boer van Hifi.be: "Caravanserai, zoals het album getiteld werd, is namelijk de eerste uiting van Santana geweest waarop hij vanuit een studio-opname doorvoerde wat hij via zijn kennis aan Miles Davis' muzikale exploraties had mogen horen. Jazz. Op deze plaat, waarmee de toenmalige in Mexico geboren twintiger een gedurfde stap zette, hoort de luisteraar een prettige mix van de voor Santana zo kenmerkende gitaarsound met invloeden van salsa en jazz. Door het vrijwel laten wegvallen van songteksten –drie van de tien tracks kennen slechts echte vocale bijdragen- was het van tevoren al duidelijk dat het album geen echte radiohits zou gaan voortbrengen.
Wat overigens geen gemis is, want de muziek spreekt geheel voor zichzelf. (…) Bijna vier decennia later is het mogelijk om Caravanserai op een digitaal medium te herontdekken, zonder 'doodgeproduceerd' of saai over te komen. Luister maar naar de percussie in tracks als Stone Flower of de zweverige keyboards die de luisteraar kunnen omarmen in het nummer All The Love Of The Universe. Op dit album stijgt de artiest Carlos Santana boven zichzelf uit en ontpopt zich als gitaarheld. Helder, open en vol dynamiek, ondanks de leeftijd van de mastertapes. Ze kunnen het dus nog wel, daar bij MoFi…"
Wednesday December 23rd, 12:00 noon CET Brussels – 11 a.m. GMT London. Repeated: 16:00 & 20:00 hrs CET Brussels, 3 p.m. & 7 p.m. GMT London
Ends: 12 midnight CET Brussels, 11 p.m. GMT London.