Rock On! Wednesday, 25 November – Acquiring The Taste (Gentle Giant, Matching Mole, Peter Hammill, Egg)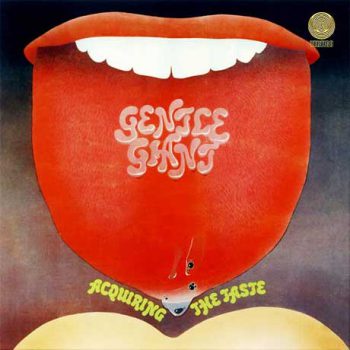 Psychedelic, heavy, prog and more innovating sounds spanning the late 60s and the early 70s – Wednesday November 25th. Dan's pick of the week: Gentle Giant (Acquiring The Taste), Matching Mole (Little Red Record), Peter Hammill (Fools Mate) & Egg (The Polite Force).
Een jaar na hun onstuimige debuut komt de Britse band Gentle Giant in 1971 met een nog ambitieuze opvolger. Acquiring the Taste heet de plaat en de band heeft in hun drang uniek te zijn, het meest symfonische werkstuk uit hun bestaan mee gecreëerd.
Dick van der Heijde van Prog Wereld: "Acquiring The Taste klinkt behoorlijk donker zonder obscuur te zijn. Bovendien is het album nogal toetsengericht met veel Mellotron en Moog zonder dat het spel op de klavieren dominant genoemd kan worden. Tevens heeft een ieder zich er een slag in de rondte geëxperimenteerd zonder dat er op de plaat gefreakt of gefröbeld is. In de acht composities, maar vooral in de eigenzinnige arrangementen daarvan zijn de contouren van al dat komen gaat al duidelijk aanwezig. Wel zijn de drumpartijen nog een stuk minder swingend dan dat ze dat later zullen zijn. (…)
Vanaf de Moog in de intro van Pantagruel's Nativity tot aan het slotakkoord van Plain Truth eist de muziek de aandacht volledig op. Het is een genot om in het door Kerry Minnear gezongen Pantagruel's Nativity de trompet te horen, of om mee te dartelen met de dwarsfluit of om in de ban te raken van die rondborstige gitaar. Sterk is de wah wah gitaarsolo in The House, The Street, The Room en zo is elk nummer wel een aaneenschakeling van noemenswaardige momenten. Eigenlijk bestaat de plaat uit een flink aantal mini-epics. Van nummers als Pantagruel's Nativity, The House, The Street, The Room, The Moon Is Down, Black Cat en Plain Truth valt echt niets anders te beweren. Het instrumentale titelnummer is qua lengte (1:36) een kleine uitzondering op de complexiteit van de nummers.
Acquiring The Taste is een album waarop het gewone bijzonder en het bijzondere gewoon lijkt. Laat je niet in de luren leggen door de 'sologitaar' van Plain Truth. Dat is een viool, zei de reus vriendelijk."
Wednesday, November 25th, 12:00 noon CET Brussels – 11 a.m. GMT London. Repeated: 16:00 & 20:00 hrs CET Brussels, 3 p.m. & 7 p.m. GMT London
Ends: 12 midnight CET Brussels, 11 p.m. GMT London.