Rock On! Wednesday, 26 august – All Together Now (Argent, ELO, Russ Ballard, Pearls Before Swine)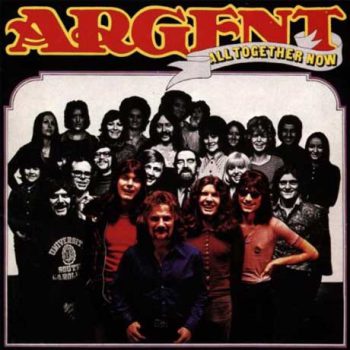 Psychedelic, heavy, prog and more innovating sounds spanning the late 60s and the early 70s – Wednesday August 12th. Dan's pick of the week: Argent (All Together Now), Electric Light Orchestra (On The Third Day), Jo Jo Gunne (Jo Jo Gunne), April Wine (Electric Jewels), Russ Ballard (Russ Ballard), Colin Blunstone (Ennismore) & Pearls Before Swine (The Use Of Ashes).
Argent is het verhaal van toetsenist Rod Argent die eind jaren 'zestig, The Zombies verlaat en een naar zichzelf vernoemde band oprichtte. Op de eerste vier albums had hij een vaste groep om zich heen, bestaande uit Russ Ballard, Robert Henrit en Jim Rodford
Prog Archives review: "Argent came of age with this album, thanks in no small part to the huge hit single "Hold your head up". The version on the album differs from the single edit by including a fine organ solo by Rod Argent
The band had decided to give this album more of a rock feel than previous more eclectic outings, and many of the tracks have a solid beat behind them. Russ Ballard contributes some of his finest songs, the best of which are "Tragedy" and "He's a dynamo", the latter being a tribute to Rod Argent. "I am the dance of ages" is a slower but very powerful song, with soaring choruses and a heavy plodding backbeat. The song was destined to become a great live track, as witnessed by the band's "Encore" album. (…)
"Pure love" aside though, an excellent album with a relentless pace, which sees the band taking a major stride forward from their previous albums."
Wednesday august 26th, 12:00 noon CET Brussels – 11 a.m. GMT London. Repeated: 16:00 & 20:00 hrs CET Brussels, 3 p.m. & 7 p.m. GMT London
Ends: 12 midnight CET Brussels, 11 p.m. GMT London.