Rock On! Wednesday, 28 december 2022 – Ange, Strawbs, Kayak, Dashiell Hedayat, Quella Vecchia Locanda & Beggars Opera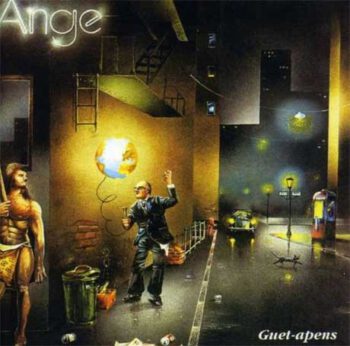 Psychedelic, heavy, prog and more innovating sounds spanning the late 60s and the early 70s – Wednesday November 16th. Dan's pick of the week: Ange (Guet-Apens), Strawbs (Bursting at the Seams), Kayak (Royal Bed Bouncer), Dashiell Hedayat (Obsolète), Quella Vecchia Locanda (Quella Vecchia Locanda) & Beggars Opera (Pathfinder).
Guet-Apens is het zesde studioalbum van de Franse progressieve rockband Ange en werd uitgebracht in 1978. We vinden nog steeds het typische geluid van de vorige albums, maar de teksten zijn meer eigentijds. De muziek werd onder invloed van de punk steviger, de productie is beter en Ange profiteerde van de aanzienlijke verbeteringen van de elektronische toetsinstrumenten.
Erik Neuteboom van Prog Archives: "My favorite Ange album is this one and my favorite track is the epic composition "Captain coeur de miel", almost 15 minutes. This long suite showcases the most captivating and exciting elements of their unique and influential music. It's an alternating piece, build upon the strong and emotional vocals from Christian Decamps and the ubiquitous Mellotron. The climates changes frequently from slow and moving till bombastic with very expressive French vocals, lots of great keyboards (organ, Mellotron and strings) and some fiery electric guitar solos.
Halfway the music contains a wonderful interlude with floods of choir-Mellotron and when the vocals joins, the Mellotron starts to sound slightly psychedelic. Then it continues with strong vocals, powerful drums and swelling Mellotron. It's a splendid, very emotional build up with a biting electric guitar solo to a gradually bombastic final part with again a fiery electric guitar solo and beautiful waves of the 'Mighty Tron'. It's a pity that the French language and the emotional vocals sound rather unaccessible for many 'symphomaniacs' because this unique progrock is so moving and captivating, especially the albums from the early – and mid-Seventies. SUPERBE!!"
Wednesday December 28th, 2022, 12:00 noon CET Brussels – 11 a.m. GMT London. Repeated: 16:00 & 20:00 hrs CET Brussels, 3 p.m. & 7 p.m. GMT London
Ends: 12 midnight CET Brussels, 11 p.m. GMT London.