Rock On! Wednesday, 29 June – Beatles, Moody Blues, East of Eden, The Move, King Crimson & Camel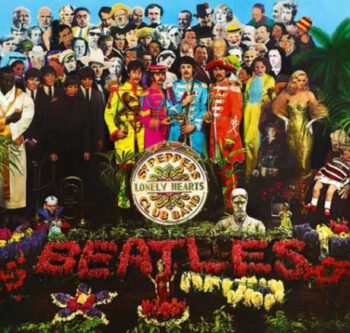 Psychedelic, heavy, prog and more innovating sounds spanning the late 60s and the early 70s – Wednesday September 15th. Dan's pick of the week: The Beatles (Sgt. Pepper's Lonely Hearts Club Band), The Moody Blues (On the Threshold of a Dream), East of Eden (Snafu), The Move (Shazam), King Crimson (In the Wake of Poseidon) & Camel (Mirage).
Sgt. Pepper's Lonely Hearts Club Band is het achtste studioalbum van de Engelse rockgroep the Beatles. Het werd uitgebracht op 26 mei 1967 en behoort ongetwijfeld tot de belangrijkste en invloedrijkste albums aller tijden.
Chris Jones van BBC Review: "But with George Martin and his backroom boys on hand, the Faberge psychedelic egg that was finally laid on the eve of the Summer of Love came so fully-realised that it changed the way we listened to recorded sound forever. Sgt Pepper's… is at once warm and familiar, yet wild and strange; cosy and English with a very empirical eye on the exotica of the East (note George Harrison's underrated Within You Without You). Shot through with Peter Blake-assisted Edwardiana, it was also as fashionable as it could possibly be.
It was also a release key in the canon of concept albums, coming with its own alter-ego mythology and very much addressing the pressing concerns of their generation, ie: how to achieve higher states of consciousness in 60s suburbia. It is riddled with The Beatles' trademark love/hate affair with the Establishment as their own lives were suddenly shoved unceremoniously up against those of the chattering classes, encapsulated by She's Leaving Home's blow at straight parenthood, Lovely Rita's suggestion of sexual deviancy, and A Day in the Life's oblique references to minds being blown on buses in rush hour traffic. (…)
Yet what was revolutionary was the sonic carpet that enveloped the ears and sent the listener spinning into other realms. There was the nursery rhyme surrealism of Lucy in the Sky…, the crazed calliopes of Being for the Benefit of Mr Kite! and, of course, the lysergic collage of A Day in the Life, promising the meaning of life in its endless final chord. And it still rings on today."
Wednesday Wednesday June 29th 2022, 12:00 noon CET Brussels – 11 a.m. GMT London. Repeated: 16:00 & 20:00 hrs CET Brussels, 3 p.m. & 7 p.m. GMT London
Ends: 12 midnight CET Brussels, 11 p.m. GMT London.