Rock On! Wednesday, 29 September – Jethro Tull, BJH, Renaissance, Focus, Mellow Candle & Mushroom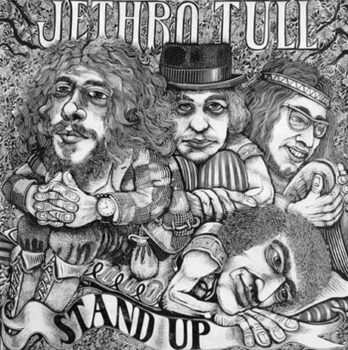 Psychedelic, heavy, prog and more innovating sounds spanning the late 60s and the early 70s – Wednesday September 15th. Dan's pick of the week: Jethro Tull (Stand Up), Barclay James Harvest (Everyone Is Everybody Else), Renaissance (Prologue), Focus (Moving Waves), Mellow Candle (Swaddling Songs) & Mushroom (Early One Morning).
Jethro Tull is een Britse progressieve rockband die werd opgericht in 1967. Hun muziek is herkenbaar aan de opmerkelijke zangstijl en het unieke dwarsfluitwerk van Ian Anderson, aan de ongewone en vaak complexe liedconstructies en aan de uitmuntende teksten.
Stand Up is het tweede studioalbum van de Britse rockband Jethro Tull, uitgebracht in 1969. Het was het eerste Jethro Tull album met gitarist Martin Barre, die later de langstzittende gitarist van de band zou worden.
Markwin Meeuws van Prog Wereld: "Voor vele Tull-fans, inclusief ondergetekende, is dit feitelijke de eerste plaat waarop het later klassiek geworden Tull-geluid gestalte krijgt. Het is niet voor niets een onvoorstelbare klassieker, met een welhaast legendarische status. Latere platen als "Acqualung" en "Thick As A Brick" mogen voor symfonische rockliefhebbers interessanter zijn, "Stand Up" zijn het niet.
Als je jezelf probeert los te maken van de historische context, probeert niet te denken aan "Under Wraps" of die vermaledijde kerstplaat, dan is "Stand Up" ook zonder de legende simpelweg een uitstekende plaat. Stel, Tull was na "Benefit" opgedoekt, dan hadden de eerste drie platen, en dus ook "Stand Up" alsnog als weliswaar obscuur, maar toch gerespecteerd meesterwerk te boek gestaan. Esoteric Recordings had de plaat graag opgepoetst en aan de man gebracht. Feitelijk is de conclusie van dit betoog dat Jethro Tull eigenlijk een protoprog-groep is die mocht blijven voortbestaan na 1970. Leuk, toch?"
Wednesday Wednesday September 29th 2021, 12:00 noon CET Brussels – 11 a.m. GMT London. Repeated: 16:00 & 20:00 hrs CET Brussels, 3 p.m. & 7 p.m. GMT London
Ends: 12 midnight CET Brussels, 11 p.m. GMT London.