Rock On! Wednesday, 3 March – Au-Dela Du Delire (Ange, Jean-Luc Ponty, Alan Stivell, Alice, Malicorne)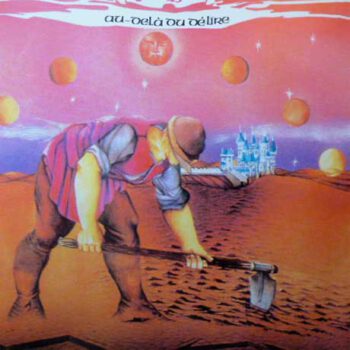 Psychedelic, heavy, prog and more innovating sounds spanning the late 60s and the early 70s – Wednesday December 23rd. Dan's pick of the week: Ange (Au-Dela Du Delire), Jean-Luc Ponty (King Kong: Jean-Luc Ponty Plays The Music Of Frank Zappa), Alain Goraguer (La Planete Sauvage), Alice (Alice), Alan Stivell (Renaissance Of The Celtic Harp) & Gabriel et Marie Yacoub (Pierre de Grenoble).
Ange is een band uit Belfort, Frankrijk begonnen eind jaren 60 van vorige eeuw. De band mag gerust een buitenbeentje worden genoemd in de pop & rockmuziek. Au-delà du délire is het derde studioalbum van Ange.
Francois Belphegor van La Grosse Radio: "Après s'être fait connaître avec leur reprise extra-terrestre de Brel "ces gens là", présente sur leur précédent album "le cimetière des arlequins", ainsi que leurs prestations scéniques hors du commun, le groupe des frangins Décamps, à l'origine plutôt rock prog, prend un nouveau virage qui va se révéler assez enrichissant.
Enregistré en l'an de grâce 1974, l'album surfe allègrement sur la vague folk de l'époque, incarnée alors par des groupes tels que Malicorne ou bien Alan Stivell. En résulte un album détonnant, entre modernité rock et fantaisie médiévale.
On sent clairement à travers cet album que le groupe prend véritablement ses marques et trouve un son bien à lui. L'album de la maturité sans doute, en tout cas, qui marque la découverte d'une patte qui marche et qui nous entraîne pour notre plus grand plaisir dans un ailleurs fantasmagorique riche et coloré.
Bref un album à (re)découvrir, d'une période désormais révolue mais toujours aussi diablement attrayante."
Wednesday March 3rd 2021 12:00 noon CET Brussels – 11 a.m. GMT London. Repeated: 16:00 & 20:00 hrs CET Brussels, 3 p.m. & 7 p.m. GMT London
Ends: 12 midnight CET Brussels, 11 p.m. GMT London.