Rock On! Wednesday 4 October 2023 – ELO, The Moody Blues, Supertramp, 10CC & The Move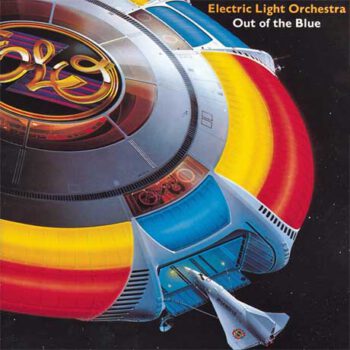 Psychedelic, heavy, prog and more innovating sounds spanning the late 60s and the early 70s –  Wednesday August 12th.  Dan's pick of the week: Electric Light Orchestra (Out of the Blue), The Moody Blues (A Question of Balance), Supertramp (Crime of the Century), 10CC (How Dare You!) & The Move (Looking On).
Electric Light Orchestra (ELO) is een Britse rockband die Beatlesque pop met strijkers en futuristische kunstbeelden vermengt. De groep was vooral succesvol in de jaren zeventig en tachtig van vorige eeuw. Oliver Thatcher Watson van Sputnik Music: "One reason for that is the albums diversity. Of all the ELO albums, this one easily does the best job of incorporating so much into one LP—and that's not just because of the extended runtime. As stated previously, the band added some theatrical flair to their style, which makes the diverse moments of this album really feel like an adventure. Whether it be the absolutely epic "Across the Border", adventurous and wonderful "Jungle", the heart pounding and infectious "Standing in the Rain", the big and romantic "Summer and Lightning", or literally anything else on the album (would take too much of the paragraph going over all of them), the band really does pull out all of the stops in making each song here have that extra umph, and it works splendidly from start to finish. Do I even have to mention the fantastic "Mr. Blue Sky"? That's not even the only amazing song here thanks to the aforementioned qualities of the album.
And the best part about all of that is that the album still manages to be sharply focused throughout. Everything feels like it was composed and structured with purpose, which better helps this album come together as something incredible. When you play this album from the start, the commanding, yet hooky and infectious "Turn to Stone" lets you know that you're in for a pretty wild ride, and one that would show no signs of stopping. And from there until the phenomenal and theatrical "Wild West Hero" that closes this epic, it doesn't stop, indeed. It's rockin', groovy, poignant, beautiful, and phenomenally put together from start to finish, all with excellent composition with its sweeping orchestral numbers mixed with rock and roll, and Jeff Lynne's per usual superb production to boot. It's an album that blossoms into something truly special, and is one of the best of its kind of all time—with the only other one like it I can think of being Elton John's "Goodbye Yellow Brick Road", another classic in its own right."
Wednesday august 20th, 12:00 noon CET Brussels – 11 a.m. GMT London. Repeated: 16:00 & 20:00 hrs CET Brussels, 3 p.m. & 7 p.m. GMT London
Ends: 12 midnight CET Brussels, 11 p.m.  GMT London.