Rock On! Wednesday, 6 September 2023 – Illusion, Renaissance, Peter Banks, Strawbs, Sebastian Hardie & Trader Horne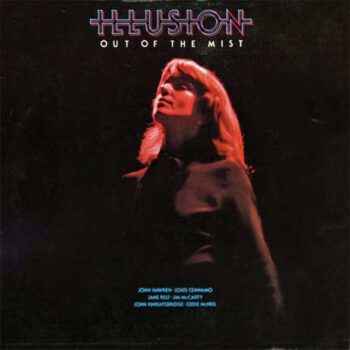 Psychedelic, heavy, prog and more innovating sounds spanning the late 60s and the early 70s –  Wednesday August 12th.  Dan's pick of the week: Illusion (Out of the Mist), Renaissance (Renaissance's First Album),  Peter Banks (Two Sides of Peter Banks), Strawbs (Dragonfly), Sebastian Hardie (Four Moments) & Trader Horne (Morning Way).
Illusion werd in 1976 gevormd door de vier overgebleven originele leden van Renaissance ( Jim McCarty , John Hawken , Jane Relf en Louis Cennamo ), met toevoeging van twee extra muzikanten, gitarist John Knightsbridge en drummer Eddie McNeil . Tegen die tijd had Renaissance aanzienlijk succes geboekt met een geheel andere line-up, zodat de oorspronkelijke naam niet langer beschikbaar was. De naam "Illusion" kwam van de titel van het tweede album van Renaissance, het laatste met deze vier muzikanten.
Prog Archives
review: "Opening on the superb Isadora, you'd swear that almost nothing has changed from these early Renaissance days. In the same realm, Beautiful Country and the ultra-melodic (and a bit cheesy) Everywhere You Go, the obvious Face Of Yesterday (a calmer rework of that second Renaissance album), and a very Renaiisance-claiming Candles Are Burning (not Ashes ;o))) are all quite pleasant and obviously hint at the Renaissance sound. The album has rockier-than Renaissance tracks like Roads To Freedom, the enthralling Solo Flight and if these tracks are only moderately progressive, at least they shake you up and avoid their albums to become soporific like Renaissance's Novella, etc?.
By the time this came out, I thought that this Illusion album was quite superior to the Renaissance of the times as Scherazade, Azure D'Or or Novella were very much yawners (IMHO), as this album had much more energy. Although one has to wonder why they did come back , other than for financial reasons that is, it's still McCarty and Jane Relf and they still sound great and so does Hawken behind his not-yet vintage keyboards. I have yet to find how the two groups co-existed or if te Haslam Renaissance even noticed the competition in commercial terms, but I'm sure there must've been frictions. Prefer this album to the now-cruise-controlling Renaissance."
Wednesday august 12th, 12:00 noon CET Brussels – 11 a.m. GMT London. Repeated: 16:00 & 20:00 hrs CET Brussels, 3 p.m. & 7 p.m. GMT London
Ends: 12 midnight CET Brussels, 11 p.m.  GMT London.