Rock On! Wednesday, February 22, 2023 – Led Zeppelin, The Who, Black Sabbath, Deep Purple & Cream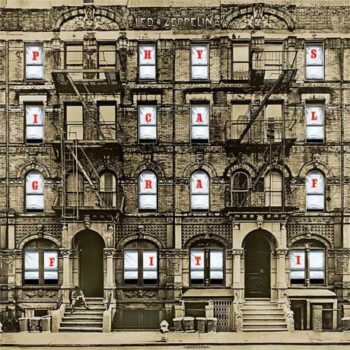 Psychedelic, heavy, prog and more innovating sounds spanning the late 60s and the early 70s – Wednesday January 25th. Dan's pick of the week: Led Zeppelin (Physical Graffiti), The Who (Who's Next), Black Sabbath (Vol. 4), Deep Purple (Burn) & Cream (Goodbye).
Jeffrey van Metalfan.nl: "
Om de release in de tijdsgeest te plaatsen: de legendarische rockband was in 1975 immens populair. Stadions liepen vol en de albums vlogen over de toonbank. De zesde full-length bereikte net als de andere platen de multiplatinumstatus. Toen de nieuwe release in de hitlijst belandde, kwamen ook alle andere vijf albums weer in de charts terug.
De rocksensatie besloot een dubbel-lp van Physical Graffiti te maken (net als andere artiesten rond die tijd) toen de acht songs, die in eerste instantie de tracklist vormden, de maximale speeltijd voor een plaat overschreden. (…)
Dat de cohesie ontbreekt, is eigenlijk helemaal geen probleem. De diversiteit is juist een pluspunt. Het zorgt ervoor dat er voor ieder wat wils tussen staat. Het bevat een van de meest bekende nummers in de vorm Kashmir, de single Trampled Under Foot (met een clavinetmelodie die afkomstig is van Superstition van Stevie Wonder), maar daarnaast ook veel ander imponerend materiaal. Het begint al direct sterk met de rauwe bluesrock van Custard Pie, The Rover en In My Time Of Dying. Laatstgenoemde is een bewerking van Blind Willie Johnson's Jesus, Make Up My Dying Bed (1927) en bevat een interessant experiment met distortion op de slide-gitaar.
Aan de andere kant krijgen we Kashmir, een van de bekendste tracks en een favoriet van de bandleden. Dit nummer heeft een zeer interessante ritmiek en bevat zowel de sterke bijdrage van een strijk- en blaasorkest als van een mellotron. De bescheiden hit Trampled Under Foot doet me altijd in positieve zin denken aan de Long Train Running van Doobie Brothers uit 1973. Aan de c-kant gaat het er een stuk rustiger aan toe met het mooie akoestische intermezzo Bron-Yr-Aur en Down By The Seaside (geïnspireerd door Down By The River van Neil Young) en het afsluitende Ten Years Gone. (…)
Physical Graffiti is de laatste echt overtuigende plaat van Led Zeppelin. Een gevarieerde klassieker die de tand des tijds goed heeft doorstaan. Na de release raakte de band op zijn retour."
Wednesday, February 22, 2023, 12:00 noon CET Brussels – 11 a.m. GMT London. Repeated: 16:00 & 20:00 hrs CET Brussels, 3 p.m. & 7 p.m. GMT London
Ends: 12 midnight CET Brussels, 11 p.m. GMT London.