Rock On! Wednesday, February 8, 2023 – Birth Control, Guru Guru, Lucifer's Friend, Pavlov's Dog & Frumpy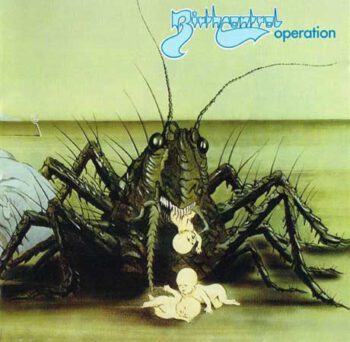 Psychedelic, heavy, prog and more innovating sounds spanning the late 60s and the early 70s – Wednesday January 25th. Dan's pick of the week: Birth Control (Operation), Guru Guru (Guru Guru), Lucifer's Friend (Where the Groupies Killed the Blues), Pavlov's Dog (Pampered Menial) & Frumpy (Frumpy Live).
Birth Control is een Duitse krautrockband, wiens grootste succes het nummer Gamma Ray uit 1972 is. Lange stukken en solo-intermezzo's van de individuele instrumenten, met name de drumsolo's, zijn kenmerkend voor haar muziek.
Victor Guimarães van Tomymostalas: "Recorded in 1971, Operation is Birth Control's second studio album, and it brought more of the good old progressive rock from the 70s. It originally consisted of six tracks, but when it was re-released in 1997, five more tracks from related singles were added. I'm quite honest when I say that the very first time I listened to Birth Control, I was caught completely off guard.
The first song, "Stop, Little Lady", overwhelmed me with sound, and the album kept its high-level progressive, bluesy, aggressive vibe the whole time. Sometimes it looked like something from a blues king from the past, in other moments, it looked like some lost in time, never recorded Yes song. Maybe a reinvented Led Zeppelin? Or a King Crimson from Berlin? Maybe a slower, more progressive Deep Purple?
Needless to say, the instrumentals are amazing – Frenzel's guitar is impeccable in its riffs and solos, bass and drums are taken more than seriously, giving all that prog tempo we love and add majestic keyboards as well. It's worth mentioning the good use of synthesizers, too. Now cook it all together and serve with the great melodies they picked and we've got the recipe for success. The vocals don't fall behind either, although the singer's timbre reminds me of something punkier. Still haven't found why."
Wednesday, February 8, 2023, 12:00 noon CET Brussels – 11 a.m. GMT London. Repeated: 16:00 & 20:00 hrs CET Brussels, 3 p.m. & 7 p.m. GMT London
Ends: 12 midnight CET Brussels, 11 p.m. GMT London.