Rock On! Wednesday, July 12, 2023 – Acqua Fragile, Garybaldi, Genesis, Panna Fredda & Campo Di Marte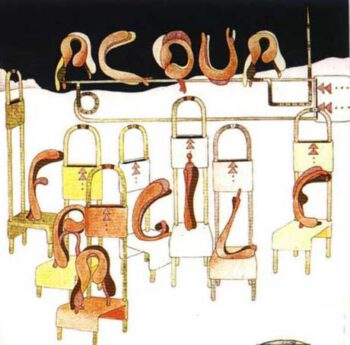 Psychedelic, heavy, prog and more innovating sounds spanning the late 60s and the early 70s – Wednesday January 25th. Dan's pick of the week: Acqua Fragile (Acqua Fragile), Garybaldi (Nuda), Genesis (Genesis Live), Family (Fearless), Panna Fredda (Uno) & Campo Di Marte (Concerto Zero).
Acqua Fragile was een progressieve rockband uit Parma, Italië. De band werd in 1971 opgericht door drie voormalige leden van Gli Immortali: zanger en gitarist Bernardo Lanzetti, gitarist Gino Campanini en drummer Piero Canavera. Ze werden vergezeld door voormalig I Moschettieri bassist Franz Dondi en toetsenist Maurizio Mori. Lanzetti's zang heeft iets weg van Roger Chapman van Family en het album wordt vakkundig gespeeld door de toen al zeer ervaren spelers.
Prog Archives review: "The fact they sing in English and sound more British than Italian is one common complaint, but the biggest is that they sound too much like other bands. The strange thing with this album is that almost each song sounds like they are copying a different band. Usually a band will sound like one band throughout. So we get strong flavours Gentle Giant, Genesis, CSNY And Yes. The appeal for me is the amazing instrumental work and very good vocals. Also I just have too much fun when listening to this so it's hard for me to be critical.
"Morning Comes" opens with gentle guitar and vocals then it kicks in after 1 1/2 minutes with vocal melodies. The vocals that follow are Gabriel-like. Organ and guitar then lead and passionate vocals follow. Vocal melodies again before 5 1/2 minutes followed by a calm. Just an excellent GENESIS flavoured track. "Comic Strips" sounds amazing instrumentally and when the vocals arrive it's clear that this is inspired by GENTLE GIANT. Such a fun song. "Science Fiction Suite" has strummed guitar and vocals that recall CSNY.
"Song From A Picture" has intricate guitar and subtle bass as reserved vocals join in. There is a very GENESIS-like instrumental section before 2 1/2 minutes. Beautiful stuff. "Education Story" is fairly heavy with passionate vocals. "Going Out" has strummed guitar and reserved vocals. Vocals melodies follow as these contrasts continue. "Three Hands Man" is the over 8 minute closer and i'm impressed with the instrumental sections on it."
Wednesday, July 12, 12:00 noon CET Brussels – 11 a.m. GMT London. Repeated: 16:00 & 20:00 hrs CET Brussels, 3 p.m. & 7 p.m. GMT London. Ends: 12 midnight CET Brussels, 11 p.m. GMT London.