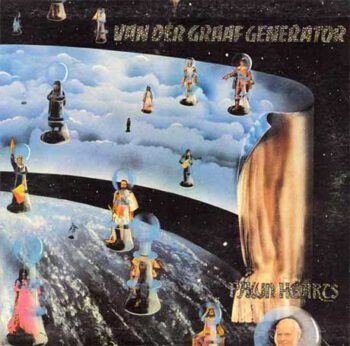 Psychedelic, heavy, prog and more innovating sounds spanning the late 60s and the early 70s – Wednesday September 15th. Dan's pick of the week: Van Der Graaf Generator (Pawn Hearts), Klaatu (3:47 Est), Gentle Giant (In a Glass House), Gong (Gong Live Etc.) & Peter Hammill (Chameleon in the Shadow of the Night).
Begin 1971 is de ster van Van Der Graaf Generator rijzende. Niet alleen dankzij drie fantastiche albums, maar ook een hele reeks optredens. Vanaf het begin vormde zanger Peter Hammill de spil van de band. Zijn karakteristieke stem is bepalend voor het geluid van de groep. Bovendien schreef hij de meeste nummers.
Wouter Bessels van Prog Wereld: "Eigenlijk is het hele album van begin tot eind een diepgaande en introspectieve reis door Hammills belevingswereld, waarvoor hij met Hugh Banton, Guy Evans en David Jackson ook muzikaal flink aan het experimenteren slaat.… Read more...